'Run, Ashley, Run': Hannity Makes 'Personal Plea' For Judd Senate Bid 'For The Sake Of The Country'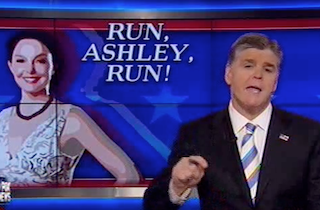 The will-she-or-won't-she buzz surrounding Ashley Judd's potential Senate bid to take on Sen. Mitch McConnell (R-KY) is seemingly endless — and on Thursday night's show, Sean Hannity weighed in with his own "personal plea." For "the sake of the country," he urged, "Run, Ashley, run."
Hannity referred to a POLITICO report about how Democrats including Bill Clinton prefer Alison Lundergan Grimes, the Kentucky secretary of state, over Judd. Don't listen to Clinton, Hannity said.
"Tonight, right here on this program, I am making a personal plea to Ashley Judd," he went on. "I am urging you for the sake of the Democratic Party, for the sake of the country, ignore the former philandering president, throw your hat in the race … Run, Ashley, run."
If she does run, Hannity quipped he'd have "the privilege" of showing America more ads like the type Karl Rove has preemptively run against Judd, despite her not being an official candidate. Panelist Jedediah Bila agreed with Hannity in wishing the "polarizing" Judd would run because she'd be "a gift to McConnell."
Tamara Holder begged to differ, noting "opponents outnumber McConnell two-to-one" and "people don't like McConnell." He's "like a crypt keeper." Hannity was willing to "bet any amount of money" that Judd would not defeat the senator.
Holder riled up Bila and Hannity who went on to point out some of her views and past remarks that "folks in the mainstream" could not identify with, but Holder countered that McConnell is hardly relatable himself. That led to much more shouting over each other and crosstalk. "She doesn't have a shot," Bila insisted.
"If she was running in New York or Massachusetts, totally different story," Hannity said. "She's running in Kentucky. Kentucky that just elected Rand Paul. She's not going to win," Hannity said on Fox News. "And I want her to run because it's going to be entertaining as hell."
Take a look, via Fox News:

Have a tip we should know? tips@mediaite.com