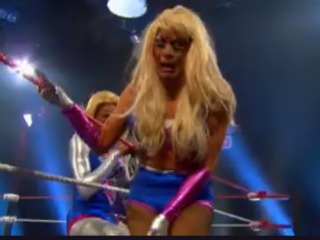 I don't mind telling you I was disappointed by last night's episode of Drag Race. One would have thought that combining two of everyone's most favorite things (drag queens and professional wrestling, obviously) would make for an explosion of glitter and gore. And yet… meh?
One thing happened, there was a padding contest, then another thing happened, and then another thing, and then Willam's [Peanut Butter Cup] was hanging the [Fudge] out in a sweat-soaked wrestling ring.
RELATED: RuPaul's Drag Race S4Ep1: Night Of The Tucking Dead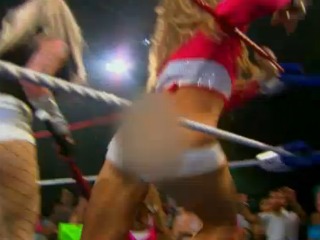 The girls were divided into three groups, each consisting of two "Faces" (good guys) and two "Heels" (villains). Chad Michaels' wrestling team ultimately proved victorious, with Michaels and Madame La Queer looking like they'd dropped by the show after a busy day of filming Desperate Living II: Do You Believe In Living Desperately After Love?.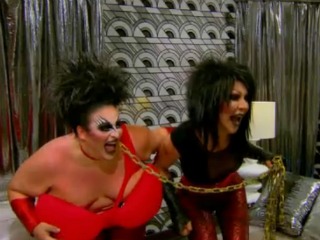 The runway show was equally underwhelming, with no real cohesive theme or objective tying the ladies' outfits together. "Girlyness?" Also adding to the "everything and the kitchen sink" feel of this episode was the fact that two NBA stars — Rick Fox and John Salley — served as guest judges. Why not use, say, former wrestler Chyna? That said, Fox and Salley proved to be adept librarians, with Salley asking a gumball-bedecked Lashawn Beyond (Why, kitten? Why?) to "tell me exactly what those balls were doing on your chest" and Fox noting that Dida Ritz's thirsty travesty of a Sex and the City homage was "more like Sex in an Alley."
In the end, Lashawn's balls and a frustratingly lackluster Princess (You can do better! I know you can! Stop being a Paris Hilton in a Kyle Richards world! No, I don't have any idea what that means!) found themselves duking it out in the bottom two. Both gave equally underwhelming lip-syncing performances, and Lashawn was, sadly, sent home. But do check out Latrice and Kenya here. Don't they look like they're in the most exciting version of Notorious: The Musical the world has ever known?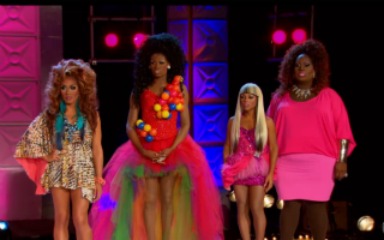 But Untucked. Or, lord, Untucked. This was, hands down, heels up, the best episode yet. It was sad, illuminating, heartwarming and infuriating all at once. We learned that Sharon Needles has a boyfriend ("NOOOOOOO!" yelled everyone.) who also does drag, we learned that Chad is refreshingly honest and open about her use of injectables, we learned that we never knew we've always wished to be adopted by Latrice Royale, and we learned — thanks to Jiggly Caliente — that certain "phobias" exist even among drag queens. In Jiggly's defense, she's still quite young. And as a very wise, exceptionally pretty blogger once Tweeted: "Jiggly could benefit from an episode of Oprah, a cup of hot tea, and a good five years' worth of growing the fuck up." So wise, pretty blogger. So wise.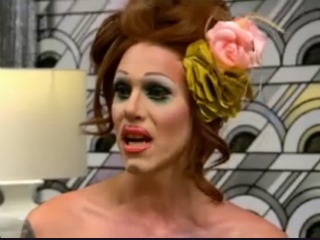 Watch it online if you've missed it, and let me know what you think. Yes, all three of you.
Have a tip we should know? tips@mediaite.com