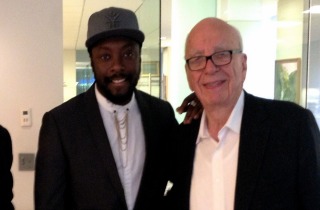 News Corp. Executive Chairman Rupert Murdoch met with musician Will.I.Am last week and the two apparently hit it off pretty well, both parties confirming the rendezvous on Twitter.
"Yesterday and today meeting Will.i.am," Murdoch tweeted Saturday, "great artist, now turned tech entrepreneur with mind-blowing ideas. Certainly ambitious."
Will.I.Am, who made an appearance on NBC's Meet the Press earlier this year that we're still puzzling over, replied, "Yesterday and today I met with Rupert Murdoch to share my vision of the future…I believe he liked it…"
This is interesting.
It is, however, not the first get together between Murdoch and Mr. I.Am. Back in September, a photo of the two together was posted to Murdoch's Tumblr blog.
"A pretty awesome way to end the day," read the caption on the post. "With Will.i.am, who came to talk about bringing education and job opportunities to kids in underserved communities. A really nice guy with a passion for change."
We've requested comment from a News Corp. spokesperson.
UPDATE — 2:52 p.m. ET: A spokesperson told Mediaite that it is company policy not to comment on Murdoch's tweets but that Murdoch has met with Will.I.Am "a few times" and that Murdoch thinks he's "a very interesting guy."
Yesterday and today I met with @rupertmurdoch to share my vision of the future…I believe he liked it…

— will.i.am (@iamwill) September 7, 2014
[Photo via Tumblr, MurdochHere]
— —
>> Follow Eddie Scarry (@eScarry) on Twitter
Have a tip we should know? tips@mediaite.com