Rupert Murdoch Slams Hacking Investigation In Secret Recording: 'Disgrace,' 'The Cops Are Totally Incompetent'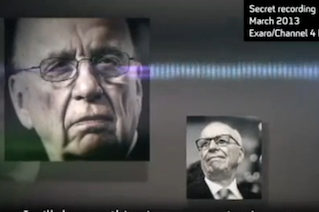 News Corp owner and global media titan Rupert Murdoch was caught on secret audiotape last March dismissing an investigation into the alleged crimes of his British publications, disdaining authorities, and privately promising support to the journalists implicated in the charges.
Murdoch was visiting a cadre of journalists who had been arrested in connection to a hacking scandal that broke several years ago, in which The Sun and the now-shuttered News of the World are alleged to have accessed the voicemails of everybody from British parliament members to families of missing persons to victims of the London 7/7 bombings. In a perfect iteration of "live by the sword, die by the sword," Murdoch was secretly recorded by at least one of the journalists whom he was addressing, and the recording was obtained by Channel 4, a British network.
During the meeting, Murdoch displayed contempt for the slowness of the investigation.
"I mean, it's a disgrace. Here we are two days later and the cops are totally incompetent…The idea that the cops then started coming in, kick you out of bed, and your families, at six in the morning, is unbelievable. But why are the police behaving this way? It's the biggest inquiry ever, over next to nothing. And now they're arresting their own, who never even took money!"
Murdoch is later heard promising the journalists his support, and the support of one of his potential successors.
"You're all innocent until proven guilty. What you're asking is what happens if some of you are proven guilty? What afterwards? I'm not allowed to promise you—I will promise you continued health support. But your jobs—I've got to be careful about what comes out—but frankly—I won't say it, but just trust me."
The statements seem to contradict Murdoch's public condemnation of his tabloids' actions as crossing ethical and legal boundaries. During a hearing on the hacking charges, Murdoch called the news "the most humbling day" of his life. And that was before a protestor tried to pie him.
Listen to more of the recordings here, via Channel 4:
[h/t Huffington Post]
—
>> Follow Evan McMurry (@evanmcmurry) on Twitter
Have a tip we should know? tips@mediaite.com