Rupert Murdoch's Testimony To British Parliament To Be Carried Live By All US Cablers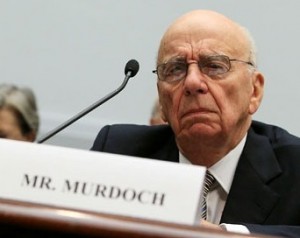 News Corp. CEO and Chairman Rupert Murdoch is appearing before a British Parliamentary committee to discuss the growing phone hacking scandal and charges of corruption and cover-up that has already led to the arrest of some high profile executives and the resignation of London's top cops.
All cable networks intend to broadcast the live testimony of Murdoch and his son James, as well as his recently resigned News International deputy Rebekah Brooks, who was just arrested on Sunday by London authorities looking into the scandal. While media outlets typically cover other media outlets with a tacit omerta, this story is so explosive that it has been a cause celebre on both sides of the Atlantic, thus the live coverage on all cablers.
Writing for the NY Times, Bill Carter explains:
All three of the all-news cable channels in the United States plan to carry the appearances of Mr. Murdoch, the chairman of the News Corporation; his son James, the top executive of the company's BSkyB outlet in Britain; and Mr. Murdoch's former top executive in Britain, Rebekah Brooks, live beginning at about 9:15 a.m. Eastern Daylight Time.

CNN and the Fox News Network have committed to covering the testimony, without indicating any limitations on duration. A spokesman for MSNBC said the network would not cover the appearances "gavel to gavel" but would stay with the coverage "depending on the content."

CNN said it would simulcast the event live on both its United States network and its international channel, CNNI. A Fox spokeswoman said that its sister channel Fox Business would also offer live coverage of the event.
Unconfirmed rumors have been floating on Twitter that Murdoch's consultants are privately concerned with the 80 year-old's preparation for testimony, which could make for some dramatic television moments. You will can watch the entire proceedings live on Mediaite via live stream starting at 9:30AM EST.
Have a tip we should know? [email protected]