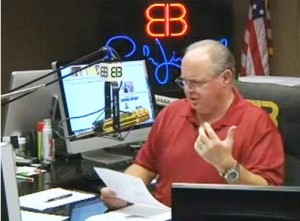 Earlier today, we reported that right-wing radio giant Rush Limbaugh completely bungled the task of reading Tommy Christopher's critique of a Hardball segment comparing the Qu'ran to the Bible. Later in his show, Limbaugh corrected himself, and apologized to Christopher. Mr. Christopher tells Mediaite, "I'm glad Rush corrected the record, and I forgive him, but I cannot accept his apology."

Christopher's initial response to Limbaugh was characteristically humble and gracious, so why would he then refuse to accept Rush's apology? "Well, he owns up to not having read the original story, but then compounds that mistake by not reading my response to his mistake. Listen to the clip!"
Limbaugh's apology is, unfortunately, of the "if I did something, then I'm sorry" variety, Christopher points out, adding "If he actually read my response, he'd know that he did get it wrong, no ifs or buts, and he wouldn't still be attributing false quotes to me. "
Limbaugh stated, in his response to Mediaite, "whoever wrote it at Mediaite says 'Well, this is an interesting debate that we're having here.'," in reference to Ghosh's comparison of the Qu'ran's divinity to the Bible's.
"Such a quote, or anything like it, appears nowhere in either of my two posts on the matter," Christopher fumed, "nor anywhere else but the vivid imagination of Mr. Limbaugh."
A review of both stories reveals that Christopher, indeed, is crystal clear in his denunciation of Ghosh's remarks, and unequivocal in his opposition to Bible-burning.
In his initial response to Limbaugh's misreading of his story, Mr. Christopher specifically asked that Limbaugh not apologize to him. It appears as though, in Christopher's mind, Limbaugh still has not.
Editor's note – yes, Tommy Christopher is both the author and subject of this post, and is employing the time tested style of writing about himself in the third person narrative.
Have a tip we should know? tips@mediaite.com