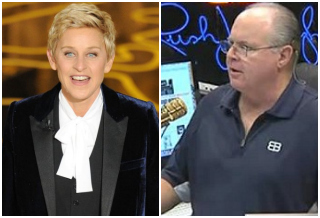 Rush Limbaugh's elaborate theory about why 12 Years a Slave won this year's Oscar for Best Picture was just radical enough to land him a place on Crossfire's "Outrages of the Day" Monday night. Today, Limbaugh defended himself, saying his comments were no worse than a similar joke Ellen DeGeneres made in her opening monologue.
To recap, Limbaugh previous said there was no way 12 Years a Slave was going to lose the top prize at this year's Academy Awards because "it had the magic word in the title: slave."
"No, it won because it's an exquisite film" Crossfire host Sally Kohn said after paraphrasing that sentiment. "But thank you, Mr. Limbaugh, for reminding us how far Hollywood and America still have to travel on issues of race and racial justice."
To defend himself against Kohn's accusations, Limbaugh decided to compare his own words to those of DeGeneres, who closed her Oscar opening monologue by laying out two possibilities for how the night could end. "Possibility number one: 12 Years a Slave wins best picture," she said. "Possibility number two: you're all racists."
"I basically just agreed with Ellen DeGeneres!" Limbaugh exclaimed. "The real racists are in Hollywood. The movie was gonna win no matter what because of the subject matter, title in it or what have you. It was a no-brainer, talk to anybody. There was no way that the Academy was not going to vote that move the best picture, and to point that out shows how far the Academy has to go."
Well done, Crossfire, you made Rush Limbaugh admit he's not that different from Ellen DeGeneres after all.
Listen to audio below, via The Rush Limbaugh Show:
[photo via screengrab]
— —
>> Follow Matt Wilstein (@TheMattWilstein) on Twitter
Have a tip we should know? tips@mediaite.com