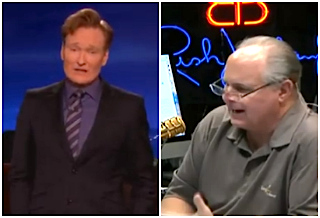 Rush Limbaugh has a bone to pick with Conan O'Brien. During his first show back from a holiday break Thursday, the talk radio host accused O'Brien of "ripping off" a bit Limbaugh did as early as the year 2000.
"We were the first to discover and document how the media, all of them, will use the same word or phrase in covering a story," Limbaugh declared, citing the media's use of the word "gravitas" to describe George W. Bush's choice of Dick Cheney as running mate. Last week, O'Brien did something very similar "as if it had never been done before."
Limbaugh was referring to the latest in O'Brien's "media reacts" series, in which he strings together clips of local news anchors reading the same prepackaged script, this time about holiday shoppers buying "one or two or ten" items for themselves.
"I will bet you that the 20 writers that Conan has will each win an Emmy for this," Limbaugh told his listeners, even though he first aired his version fourteen years ago. "This is dead flat rip-off."
Limbaugh's "gravitas" segment, which he replayed to make his point, does not pack quite the comedic punch that O'Brien's segment does since it features the repetition of just one word rather than several words together. But it certainly shares the same DNA. While Limbaugh said it was "impossible" that O'Brien and his staff did not know about his version, it seems unlikely that they are regular Limbaugh listeners.
The segment that caught Limbaugh's attention is far from the first time O'Brien has "discovered" these uniform media moments. He aired one on Cyber Monday in 2012 and another this past summer about "a child's happiness" among others. There was even one back in 2011 that dealt directly with O'Brien's decision to "push the envelope" by presiding over a same-sex wedding on his show.
Listen to audio below, via The Rush Limbaugh Show:
And watch the Conan segment that set Limbaugh off below, via TBS:
[photos via screengrab]
— —
>> Follow Matt Wilstein (@TheMattWilstein) on Twitter
Have a tip we should know? tips@mediaite.com