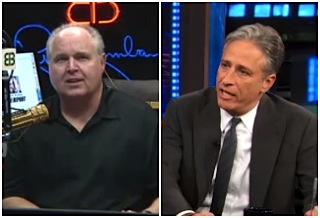 Rush Limbaugh found himself in the unexpected position of applauding Jon Stewart Tuesday morning for his aggressive interview with Secretary of Health and Human Services Kathleen Sebelius over problems with the rollout of the Affordable Care Act. The radio host said Stewart "did his best" in the interview with a fellow member of Obama's "regime" but "even for his own credibility, he was not able to let this go" without a fight.
Limbaugh saved most of his criticism for Sebelius, who he said came off on The Daily Show as "ignorant, misleading and totally incompetent." He played several audio clips from the interview, interrupting periodically to refute her points and reluctantly commend Stewart's questions.
He did not give Stewart a complete pass, referring to him as a "regime flunkie." One of reasons why Limbaugh found the interview so striking is that Stewart is "all for" Obamacare but the administration is still having trouble selling it to him and his audience.
Limbaugh also took credit providing Stewart with some of the arguments he used against Sebelius. "We're the 'crazies,'" he said, echoing Stewart's description of conservatives, "but if it weren't for us, Jon Stewart wouldn't know that businesses are downsizing [due to Obamacare], because the places he goes for news are not reporting it."
"I think it's great," Limbaugh said of Stewart's suggestion at the end of his show that Sebelius may have been lying to him, because it shows there's a "transformation taking place that the regime didn't count on." He concluded by saying, "My point is, when a low-information audience laughs at an Obama bureaucrat's non-answers and lies, I don't know that it means we're winning, but it clearly is not the norm."
Listen to audio below, via Rush Limbaugh:
And you can watch Stewart's full interview with Sebelius below, via Comedy Central:
[photo via screengrab]
— —
>> Follow Matt Wilstein (@TheMattWilstein) on Twitter
Have a tip we should know? tips@mediaite.com