Russell Brand Brutally Mocks Award Show for Making Light of Syria: GQ Now Stands for 'Genocide Quips'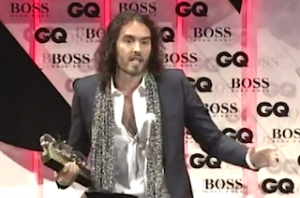 Russell Brand took the pages of the The Guardian yesterday to help explain exactly what happened when he recently accepted the "Oracle" award at Britain's GQ Awards. Never one to take pomp and circumstance too seriously, Brand used his speech to mock London Mayor Boris Johnson's Syria comments and compare corporate sponsor Hugo Boss to the Nazis.
Brand began by making fun of the Oracle award itself, which he said "sounds like something that's recently been made up." But soon he moved on to Johnson, who had just accepted the "Politician of the Year" award. "Glad to grace the stage where Boris Johnson has just made light of the use of chemical weapons in Syria," he said. "Meaning that GQ can now stand for 'Genocide Quips'."
The rest of his speech was spent giving the audience a history of the award show's main corporate partner, Hugo Boss, whose logo was emblazoned all over the stage. Brand explained who Hugo Boss made the uniforms for the Nazis, imagining the ways the company deludes itself into forgetting that fact today. "We had a lot of clients in the 30's and 40's, I can't remember all of them," he suggested, before throwing in a goose step for good measure.
In his Guardian essay, Brand shed light on Johnson's Syria comments, which he described as "joshing" that "Labour's opposition to military action in Syria is a fey stance that he, as GQ politician of the year, would never be guilty of." But this description of the reaction to his Nazi jokes perhaps best sums up the situation:
"I could see the room dividing as I spoke. I could hear the laughter of some and louder still silence of others. I realised that for some people this was regarded as an event with import. The magazine, the sponsors and some of those in attendance saw it as a kind of ceremony that warranted respect. In effect, it is a corporate ritual, an alliance between a media organisation, GQ, and a commercial entity, Hugo Boss. What dawned on me as the night went on is that even in apparently frivolous conditions the establishment asserts control, and won't tolerate having that assertion challenged, even flippantly, by that most beautifully adept tool: comedy."
Brand has an uncanny ability to upend almost any room he enters, as evidenced by this summer's epically bizarre appearance on Morning Joe. The GQ Awards were clearly no different.
Watch video below:
[photo via screengrab]
— —
>> Follow Matt Wilstein (@TheMattWilstein) on Twitter
Have a tip we should know? tips@mediaite.com