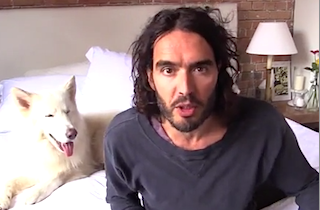 A Fox News host talked about Russell Brand this week, which means Russell Brand is once again talking about Fox News on his YouTube show "The Trews." This time, it was The Five's Greg Gutfeld, who called the comedian "left-wing Commie scum" for his comments about Wall Street Journal editor Jason Riley's take on Ferguson. "Today we'll be looking at some Fox News footage, and I'll be defending myself, as usual!" Brand declared.
Brand did a little research on Gutfeld ("Did a man ever live up to his name?") and discovered that he wrote a book titled The Joy of Hate
. "That's where Greg Gutfeld vibrates, as a human being, in hatred," he said. "Greg's a bit of a swine, and a bit of a snide," he added.
RELATED: Russell Brand to Hannity: Speak from Love, 'Not from Vengeance and Hatred'
Moving on to the issue at hand, Brand defended himself by breaking down the meaning of "conservative": "They're trying to conserve hatred, they're trying to conserve misery, they're trying to conserve existing power structures." While Brand did not originally mention Gutfeld's race, he did, in this new video, draw attention to his "weird facial orifice that looks like a caving-in anus" and the "echoing tub" of his mind.
"He's really angry isn't he?" Brand wondered calmly.
Watch video below, via YouTube:
And watch the full Gutfeld clip below, via Fox News:
[Photo via screengrab]
— —
>> Follow Matt Wilstein (@TheMattWilstein) on Twitter
Have a tip we should know? tips@mediaite.com