Russell Brand Says He's 'Open-Minded' to 9/11 Conspiracies During Contentious BBC Interview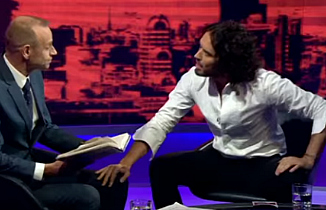 Comedian and activist Russell Brand suggested Thursday evening that he is "open-minded" to the possibility that the United States government was behind the deadly 9/11 attacks.
The remarks came during a heated conversation with BBC NewsNight presenter Evan Davis. This marks the second time in a year the actor has had prickly debates with the show's hosts — in Oct. 2013, then-host Jeremy Paxman heard out Brand's "revolutionary" ideas and called him a "very trivial man."
In this more recent interview, Brand accused Davis and his media colleagues of "cozying up" to politicians, large corporations, and so-called "conventional wisdom." In return, the host asked Brand to explain the portion of his book that gives credence to theories that the destruction of World Trade Center on Sept. 11, 2001, looked like a "controlled explosion."
"I think it is interesting at this time when we have so little trust in our political figures, where ordinary people have so little trust in their media, that we have to remain open-minded to any kind of possibility," Brand responded. "What I do think is very interesting is the relationship that the Bush family have had for a long time with the bin Laden family." He then accused the BBC of building an "anti-Islamic" narrative in its coverage of the Ottawa shootings this week.
Throughout the interview, Davis repeatedly attempted to get Brand to answer a variety of questions about his views, with the comedian often shouting over him, refusing to "follow you down blind alleys about silly administrative quibbles."
"I'm trying to take you seriously," a vexed Davis eventually pleaded.
Watch the full interview below, via BBC:
[h/t Raw Story]
— —
>> Follow Andrew Kirell (@AndrewKirell) on Twitter
Have a tip we should know? tips@mediaite.com