Russell Brand's Raunchy MTV Movie Awards Intro Ponders Justin Bieber Doing Jail Time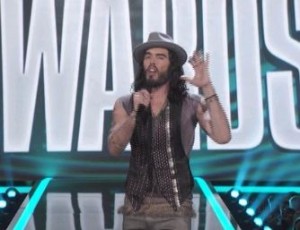 It's been scientifically proven that when British people host American awards shows, they are 65 percent more likely to invite controversy. Tonight's MTV Movie Awards are being hosted by UK import and Katy Perry leftover Russell Brand. In his opening monologue, Brand did his best to keep the jokes purely about the world of entertainment, but luckily he recruited Charlie Sheen to reign him in in case the jokes got too political. Brand had fun with several of the stars in the audience, as well as some shameless movie plugging, some jokes about his own failed celebrity marriage, and of course, some rather weird material about Justin Bieber.
Brand punctuated his jokes by intermittently shouting "Twilight! Hunger Games!" to wild applause from the audience. He brought up Bieber allegedly beating up a member of the paparazzi. After giving kudos to the pop star for the smackdown, he joked that if Bieber ever beat him up, it might bring him to orgasm. And he speculated that even if Bieber ended up going to jail and subjected to… well, you know, at least he would be away from his screaming fans.
Brand had some fun with Charlie Sheen (which, let's face it, has never been timelier), Michael Fassbender's penis, and even himself. He closed out his monologue by joking that since he married Perry after she attended the last MTV Movie Awards he hosted, he would be on the lookout for his "next wife" tonight.
Watch the entire monologue below, courtesy of MTV:
Have a tip we should know? tips@mediaite.com
Josh Feldman - Senior Editor