Russell Simmons Pisses Off Nearly Everyone with 'Harriet Tubman Sex Tape' Video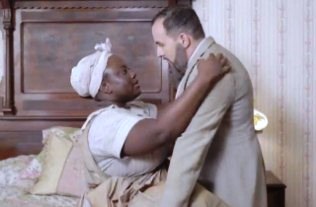 On the first day of his "All Def Digital" YouTube page, mogul Russell Simmons managed to anger nearly everyone with a video parodying abolitionist hero Harriet Tubman with a "sex tape."
The video, titled "Harriet Tubman Sex Tape," revisits the story of Tubman's efforts to rescue hundreds of slaves by parodying her as having used her sexuality to outsmart slaveowners and obtain freedom for the enslaved. The video shows Tubman engaging in aggressive sex acts with a white plantation owner. "The implication is that the only way Ms. Tubman was able to free so many Black people was for her to sleep with their White plantation owners," laments NewsOne.
"This our only chance to getting freedoms," the actress playing Harriet Tubman says when asked by her male counterpart whether their plans will actually work.
The enslaved black man then hides in the closet and waits for the plantation owner to enter the room and proceed to have sex with Tubman. The slave films the bizarre proceedings, which is shown in a parodical way to the audience. Following intercourse, Tubman tells the slaveowner that she has "leverage" and will expose his "Negro-loving ways" using the video her friend just shot.
"I am not sure why anyone would think this would be funny, nor can I comprehend how any Black actor would agree to participate in such coonery," NewsOne wrote in scathing criticism. "Perhaps the intellectual depth of their humor amounts to nothing more than the antebellum humor with which house Negros would have entertained their slave masters. What is clear is their astonishing disregard — and ignorance — of their history."
Simmons promoted the video in a now-deleted tweet declaring it "the funniest thing I've ever seen":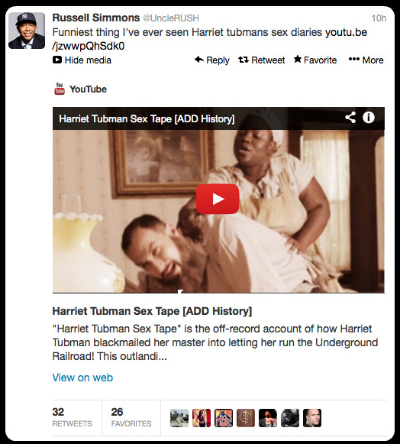 But eventually the outcry became too much, leading to the NAACP asking Simmons to remove the video. He complied and issued an apology:
In the whole history of Def Comedy Jam, I've never taken down a controversial comedian. When my buddies from the NAACP called and asked me to take down the Harriet Tubman video from the All Def Digital YouTube channel and apologize, I agreed.

I'm a very liberal person with thick skin. My first impression of the Harriet Tubman piece was that it was about what one of actors said in the video, that 162 years later, there's still tremendous injustice. And with Harriet Tubman outwitting the slave master? I thought it was politically correct. Silly me. I can now understand why so many people are upset. I have taken down the video. Lastly, I would never condone violence against women in any form, and for all of those I offended, I am sincerely sorry.
The Def Jam co-founder may have removed the video from his website, but we have a copy. Watch the (VERY NSFW) video below:
— —
>> Follow Andrew Kirell (@AndrewKirell) on Twitter
Have a tip we should know? tips@mediaite.com