Rutgers Anti-Condi Activist: 'War Criminals Shouldn't Be Honored by Our University'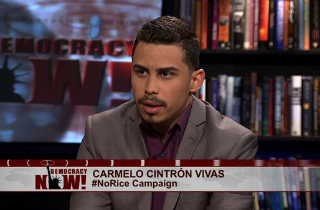 Last week, former Secretary of State Condoleezza Rice withdrew as the Rutgers University 2014 commencement speaker following student and faculty protests over her role in the 2003 coalition invasion of Iraq. While the successful pressuring to remove Rice from the event has garnered some heavy criticism, one student activist told Democracy Now that it comes down to a simple question of whether a university should honor a "war criminal."

Rutgers student and "No Rice Campaign" activist Carmelo Cintrón Vivas appeared on the progressive media network and told host Amy Goodman the reasons for protesting:
We felt that war criminals shouldn't be honored by our university. Someone who has such a tainted record as a public servant in this country should not go to our university, speak for 15 minutes, get an honorary law degree for trying to circumvent the law, and receive $35,000. We believe that that is wrongful, and that's not fair to any student graduating or not graduating at Rutgers University.
Asked to address concerns about free speech, Vivas responded:
We have always—we have been receiving since the beginning our main backlash, if we can say it's that, is that, "Well, she's a minority. It's a woman. Why are you protesting this? This is supposed to be something that you're always for. And she has free speech." We think that those are a really valid question, but you have to go beyond that. You have to go beyond reducing a person to their race or to their gender and looking into their actions. Just because I am a minority—because I am, I'm Puerto Rican, I've only been here in the United States for two-and-a-half years—doesn't mean that I'm not to be held to the same standards as everyone else and that I can break the law whenever I want to.
And regarding the arguments that her academic achievements should outweigh her political positions:
That's just ludicrous. If we look into a lot of criminals and we look into a lot of international criminals and just bad people in history, a lot of them had great academic careers or great medical careers or great—your career is one thing, and the way you act as a person, as a human being, is another one. And that's why you make this an issue about human rights.
Watch below, via Democracy Now:
— —
>> Follow Andrew Kirell (@AndrewKirell) on Twitter
Have a tip we should know? tips@mediaite.com