Ruth Williams On The Cash Mitt Romney Handed Her: 'He Paid For My Light Bill'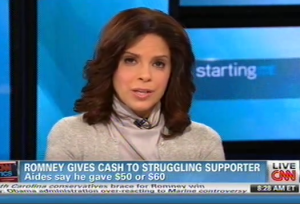 Ruth Williams, the woman Mitt Romney handed a wad of cash to at a campaign stop over the weekend, explained to Starting Point host Soledad O'Brien on Monday morning how the events played out, and how much the handful of money meant to her.
"He paid for my light bill," Williams told O'Brien, saying that her daughter works a 15-hour per week job at K-Mart, and that's the only source of income the family currently has. Williams added Romney's manager's husband gave her money, as well, for food.
O'Brien, noting that a lot of people are cynical about politics, asked Williams how she would counter accusations that this was, "a calculated political strategy," by the Romney campaign, to give a poor woman money in front of reporters and newspeople at a media event.
"No it wasn't," Williams countered. "It was a divine intervention by the Holy Spirit. I listened to what God said. I've never known anything about [Romney], I've never done anything for him, I've never even spoken to him. You cannot buy a vote with 55 or 60 dollars…It kept me and my kids eating this weekend."
Williams, who kept talking through several would-be O'Brien interjections, explained that she used to run a cleaning and landscaping service company, but her son's medical needs — he fell into a coma and has had three brain aneurysms — forced her out of business. She told O'Brien that the family doesn't even currently have a refrigerator.
"I'll work, I'll work. I will work. I will clean, I'll work, as long as it's honest. I think that's what most people want. I don't think people want handouts. I think you feel better when you work for it."
Watch a clip of the interview below, courtesy of CNN:
Have a tip we should know? tips@mediaite.com