Ruthlessly Bullied Bus Monitor On Fox & Friends, Says She Tried 'To Pretend They Weren't Doing This'
Ruthlessly Bullied Bus Monitor Says She Tried 'To Pretend They Weren't Doing This'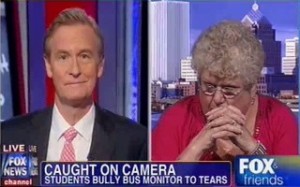 Karen Klein, a school bus monitor in New York state who was bullied by her students to the point of tears, appeared on Fox & Friends on Thursday. Her bullying episode was caught on a video that quickly went viral on Wednesday – she still appeared shaken. Klein said she did not want to see the bullying kids "go to jail" but she did say she was hurt by their taunts. Particularly one child who said Klein had no family because they killed themselves to be away from her when, in fact, Klein's son did commit suicide.

RELATED: Video Of Middle Schoolers Mocking Bus Monitor Is The Most Unpleasant Thing You'll See Today (UPDATE)
Co-host Steve Doocy asked Klein how the bullying incident began. She said it began "a while ago" but she never wrote up a referral.
"They would mock out my hair – mock out anything you could think of. But they didn't get vicious like they did on Monday," said Klein.
Doocy asked how Klein was able to stay as calm as she did on the tape in the face of 10 straight minutes of insults and threats.
"I don't like confrontations like that," said Klein. "I didn't want to do anything to hurt anybody. That wouldn't have looked good either. I probably would have been fired actually if I'd have done anything violent. So I just restrained myself and tried to pretend that they weren't doing this."
Doocy asked Klein how she felt when the students suggested that Klein's family all "killed themselves because they didn't want to be near to you." He said that could be particularly hurtful because Klein's oldest son did take his life.
Klein said that she had not heard that particular insult at the time of the incident. "I mean, it was uncalled for," said Klein.
"They seem like monsters to me," said Doocy. "What should happen to these kids?"
Klein said she did not know, but there were many people who were upset by the incident. Doocy pushed and asked what these kids will be like when they grow up if they behave this way today.
Klein was silent, but finally said that she did not want the kids to "go to jail for this." However, she said that an example should probably be made of some of her tormenters. She noted that she has received communications from other children who felt bad about their peer's behavior.
Doocy asked if anyone had offered her an apology. Klein said no.
The sympathy she experienced was so broad that a blogger started an internet fund to buy her a vacation from the bullying children – at least, that was the original intention. The fund's goal was to raise $5,000 for Klein. As of this writing, she has raised over $125,000 – and 30 days still remain to donate to the cause.
When Doocy told her of this, Klein was shocked. "I would like to thank all these people, but that's really not possible," said Klein. "Thank you so much for your support."
Watch the segment below via Fox News Channel:
> >Follow Noah Rothman (@Noah_C_Rothman) on Twitter
Have a tip we should know? tips@mediaite.com