Ryan Seacrest Confirms He's Joining NBC, Is Grilled By Matt Lauer On Whether He's Replacing Him
Matt Lauer Grills Ryan Seacrest On Whether He's Replacing Him At NBC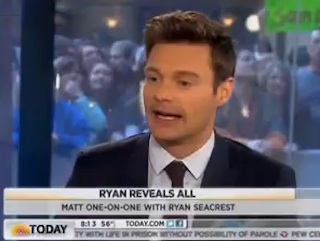 Appearing on the Today Show Wednesday morning, Ryan Seacrest announced he was joining the prime-time team for the 2012 Olympic coverage. Anchor Matt Lauer took the opportunity to grill Seacrest over reports that he was replacing him.
RELATED: WSJ Reports Ryan Seacrest In Talks To Replace Matt Lauer At TODAY
"What kind of conversations have you had with NBC about joining the Today show?" Lauer asked.
"Oh, they didn't tell you?" Seacrest joked.
"That's why you're here." Lauer replied.
"I've worked with the E! network for years and NBC Universal and E! are the same family and so the plan is for me to join the NBC family, and continue to have a role at the E! network," explained Seacrest. "The first assignment will be to join the prime-time team for the Olympics on NBC."
"You didn't answer the question," Lauer continued. "So the question was, what conversations have you had with NBC officials about joining this program? I want names and dates…can you see yourself doing a job like this?"
"I don't know, I see you doing this for as long as you want to… So, you know, maybe the question is, how long will you be on the Today show?" Seacrest countered. "Because fans and myself included think you should be here for years to come."
"Can I say something I think is important to just say real quickly?" Lauer asked. "First of all, I think you'd be great at this job and secondly. We have discussed — Ryan and I are friendly. We have talked about this. We've joked about this. There is no tension here."
"There's no tension," Seacrest confirmed. "Matter of fact, when the story came out, you and I spoke and had dinner right after that. There's nobody better than you."
"And by the way, I bought dinner. Which I thought was completely inappropriate," Lauer snarked.
Have a look at their exchange, via NBC:
Have a tip we should know? tips@mediaite.com