S.C. Dem. Party Chairman Explains Comments Comparing Nikki Haley With Hitler's Mistress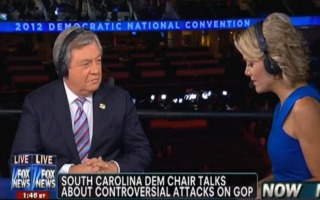 South Carolina Democratic Party Chairman Dick Harpootlian appeared on Fox News Channel with Megyn Kelly on Thursday to respond to incendiary comments he made about South Carolina Gov. Nikki Haley, saying she was "down in the bunker a la Eva Braun" after she made supportive comments about Mitt Romney.

"You're one of three Democratic officials who have made a similar comment about Nazis and comparing Republicans to them just this week," said Kelly. "How do you respond?"
"I regret the syntax, like the president does," said Harpootlian, referring to comments made by President Barack Obama in which he said he regretted the syntax he used when making his "you didn't build that" remarks in Virginia this past July.
"This is a governor who has not only avoided the press, she refuses to answer questions at press conferences," said Harpootlian. He said he was expressing his frustration at being unable to get Haley to respond to tough questions.
"Perhaps the choice of examples was hyperbole and wrong, but, you know when you're in the heat of all this, you may exceed the bounds of what people may think are bad taste," said Harpootlian. "I've done it before and I'm afraid I may do it again in the future."
Kelly proceeded to run down the litany of Democratic officials making comments equating Republicans to Nazi officials. "You know, hyperbole is something that abounds here this week," said Harpootlian, saying he regretted distracting from the discussion about the real issues of the campaign. He went on to attack Haley for avoiding the questions of reporters.
Watch the segment below via Fox News Channel:
> >Follow Noah Rothman (@Noah_C_Rothman) on Twitter
Have a tip we should know? tips@mediaite.com