S.E. Cupp And Alex Wagner Agree: As VP Picks Go, Sen. Rob Portman Is 'Unexciting'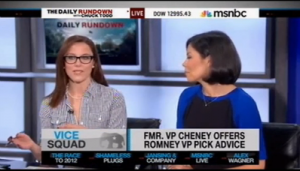 On Tuesday, Daily Rundown host Chuck Todd invited columnist S.E. Cupp, MSNBC host Alex Wagner and Time magazine's Nancy Gibb onto the panel to discuss what, exactly, the vice presidency is all about.
Former Vice President Dick Cheney recently offered presumptive GOP nominee Mitt Romney a bit of helpful advice in selecting a running mate: take care to choose someone who "has the capacity to be president."
RELATED: Jon Stewart Pokes Fun At Republicans' Refusal To Compete In Romney's Veepstakes
When talk turned, as it inevitably does, to former VP candidate Sarah Palin, Cupp noted that "you can love Sarah Palin, but if you're campaigning for Mitt Romney or you are advising that team you don't want to recall 2008 and you don't want to do that by picking Susanna Martinez, who is a great governor. you don't want to conjure up images of 2008 again. I think the most important quality that he's looking at is do no harm. He just wants someone who is not going to harm his campaign, and that means you're probably going to get someone unexciting like Rob Portman."
Todd then pointed out that the Romney campaign — regardless of whether or not it is seriously considering selecting Marco Rubio to run alongside Romney — knows it is pretty much guaranteed coverage by having Rubio simply being around. "It's a cheap way to get some attention during the lull in the campaign," he said.
"Travel buddies," Wagner agreed. "Go hang out with Nicki Haley, hang out with Susanna Martinez. I don't know, Rob Portman doesn't seem that exciting unless maybe he has naughty monkey peep-toe shoes and the glasses without frames."
Todd then brought up Gibbs' new book, saying that "it's so clear… vice presidents matter so little."
"Well, except for the fact that a lot of them end up becoming president themselves," said Gibbs, "or at least becoming nominees."
Have a look, via MSNBC:
Have a tip we should know? tips@mediaite.com