S.E. Cupp And Touré Battle Over Whether NRA Wants More Massacres, Mentally Ill To Have Access To Guns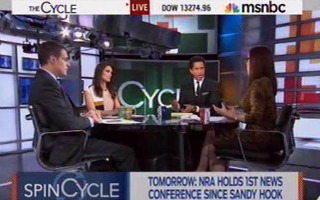 On Thursday's The Cycle on MSNBC, cohosts S.E. Cupp and Touré clashed over his suggestion that the National Rifle Association benefits from horrific mass shootings. Touré claimed that the NRA, "in a perverse way," welcome mass shootings like what occurred in Connecticut last week. Cupp called Touré's comment a "terrible thing to say."

"We have to remember that the NRA does not really represent gun owners," Touré said. "They really represent gun and ammunition manufacturers. So, they're not going to do anything tomorrow, or at any point, that would hurt their business – the billion dollar business that they represent."
"These moments appear bad for the NRA, and they sort of run and hide as if they know that these moments appear bad. But NRA membership booms in these moments, gun sales boom in these moments," Touré added. "So, in a perverse way – they would never admit this publicly – these moments are actually good for them."
"How do we expect them to really not want these moments," Touré asked.
"That's a terrible thing to say," Cupp shot back. "The NRA would never want these kinds of moments, and the NRA invests million annually in gun safety."
The two went on to battle over whether the NRA actively supports allowing the mentally disabled to have more access to firearms. Touré insisted that the NRA has made it easier for the mentally disabled to get guns, while Cupp retorted that the NICS Improvement Act specifically made it harder for the mentally ill to get guns.
Watch the clip below via MSNBC:
> >Follow Noah Rothman (@Noah_C_Rothman) on Twitter
Have a tip we should know? tips@mediaite.com