S.E. Cupp Battles Alex Wagner Over Ted Nugent, Similar Criticism of Bush Was 'Lighthearted'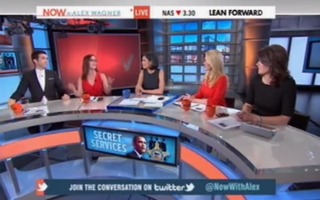 On MSNBC's Now with Alex Wagner, New York Daily News columnist S.E. Cupp and Wagner's panel got into a heated exchange over controversial remarks made by Ted Nugent about Democrats and President Barack Obama. Cupp, while not defending Nugent's remarks, made it clear that President George W. Bush had it bad and there is a "double standard on this issue," while Wagner said criticism of Bush was made in a "more lighthearted fashion."

RELATED: Secret Service Says They Are Investigating Ted Nugent's Remarks Towards Obama
"This kind of stuff – I don't know that Ted Nugent was literally inciting, sort of, violence directed at the president – but is there a place for this kind of, this kind of language directed at the commander-in-chief," asked Wagner.
Former aide to former Pennsylvania Sen. Rick Santorum, Alice Stewart, clarified Nugent's remarks and brought up an interview that the rocker had done with conservative radio host Mike Huckabee where he said that he never threatened anyone.
"He himself would have a heart attack if we had four more years of the Obama administration – big government policies. Or he would be in jail because he would be fighting strongly for his Second Amendment rights and his First Amendment rights," said Stewart. "That's what he was referring to. Of course, no one bothered to ask him to clarify what he was talking about."
Wagner interrupted, "But he did say 'chop their heads off' which, as far as I know, is something that would land you in jail."
"And you don't go to jail for advocating your Second Amendment rights," said Ari Melber, correspondent for The Nation magazine.
"Or having a heart attack," added Cupp.
Stewart continued defending Nugent's comments, but conceded that he could have found a "more artful way of saying it."
"I'm not going to translate for Ted Nugent, or defend what he said. I don't like what he said," stated Cupp definitively. "But I do want to remind everyone that in 2000, when President Bush was then just the Republican nominee, Craig Kilborn on CBS came out and put a picture of Bush up on the screen with 'snipers wanted' underneath it. CBS then had to apologize for Craig Kilborn and nothing happened to him."
Cupp went on to say that "the rapper Common has a rap song in which he targets the president and nothing happened – in fact he was invited to the White House. So the outrage over this is a little – there's a bit of a double standard on this issue."
Common, a hip hop artist who sparked a controversy in 2010 when he was invited to the White House, had previously released a song in that contained the lyrics "burn a Bush, cause for peace he no push no button."
Wagner responded that she would not defend Craig Kilborn and would "not get into" Common. "but I think if you actually are fair and you look at the amount of rhetoric – the strident and violent nature that is being tossed about by—"
"You think Obama has it worse than Bush did," Cupp interrupted. "Revisit some of those protest posters, Alex."
Alex turned to Melber returned to the comments made by Nugent and said that the most disturbing part of his comments were that they were delivered at a National Rifle Association rally. "He was speaking at a gathering of people oriented towards exercising their Second Amendment rights and carrying weapons," said Melber. "So I think the context can be different than stand-up comedy." Melber defended Nugent's right to say what he said, but clarified that it was poor taste and was subtly threatening due to the venue at which he made those statements.
"I would also say that there is a venom and a serious – at the end of that, [Nugent] says 'I'm serious a as a heart attack, why are you laughing,'" said Wagner. "I would argue that those other arguments that were perhaps made about President Bush were perhaps made in a more lighthearted fashion." Wagner cited Nugent and recent remarks by Santorum supporter Foster Friess when he said that he hoped Obama had a "bullet-proof teleprompter" were "incredibly irresponsible."
Cupp agreed that those and other comments were irresponsible, but added "we all have amnesia about how bad Bush had it."
Watch the exchange below via MSNBC:
Have a tip we should know? tips@mediaite.com