S.E. Cupp Battles MSNBC Anchor Over Whether 47% Video Maker Is A Neutral Moderate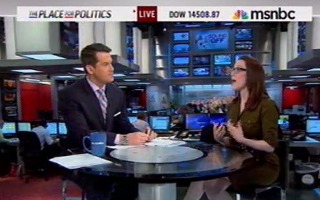 MSNBC's co-host of The Cycle, S.E. Cupp, joined midday anchor Thomas Roberts on Thursday to discuss the first day of the Conservative Political Action Conference and the reemergence of former Republican presidential candidate Mitt Romney. She was asked about the maker of the "47 percent" video who gave MSNBC a wide-ranging interview on Wednesday and whether Romney should take ownership of that comment. Cupp battled Roberts over just how relevant that video maker was and whether he was the political centrist who eschews celebrity in favor of truth-seeking he claims to be.

RELATED: 47% Videographer Tells Ed Schultz It Wasn't The 47% Remarks That Moved Him To Go Public
"We're getting people from the past reemerging," Roberts said. He introduced a clip of bartender Scott Prouty who, in a detailed interview with MSNBC host Ed Schultz on Wednesday, explained how and why he made the infamous video of Romney telling a crowd at a fundraiser that 47 percent of voters will not support him because they receive government assistance.
"Does Mitt Romney move forward if he owns it, recognizes that was the Achilles heel of his campaign, recognize where he screwed up, and tries to get people, like a Scott Prouty – who says that he's an independent, doesn't have a political bent, wasn't out to tank anybody's campaign, but felt like those words needed to be shared?" Roberts asked.
"I hardly think he's a political expert or a political analyst, and I don't think Mitt Romney needs to take advice from him," Cupp replied.
"But that's the guy who would elect Mitt Romney," Roberts asserted.
"Oh, who knows," Cupp shot back. "I mean, this is a guy who clearly wanted to put himself into the mix, or he would have released this and gone away. He wants to have his opinions out there, and that's fine – good for him. But Mitt Romney can take advice from other folks."
"Oh, come on," Roberts challenged. "The tape came out. He did not show up until last night."
"Yes, months later, out of nowhere," Cupp replied. "I'm sure Mitt Romney has learned the lessons from his campaign."
Watch the clip below via MSNBC:
> >Follow Noah Rothman (@NoahCRothman) on Twitter
Have a tip we should know? tips@mediaite.com