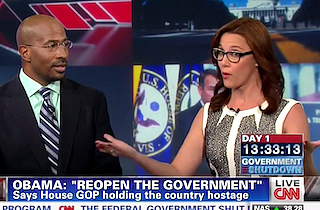 Crossfire co-hosts S.E. Cupp and Van Jones battled over the government shutdown on CNN Tuesday afternoon, with Cupp arguing that the Republicans who tied the defunding of ObamaCare to a continuing resolution were following the will of their constituents, and that President Barack Obama had failed to sell those voters on his signature domestic legislation.
"We are here today not just because Congress has failed to lead, but because the president has failed to lead," Cupp said. "He's acting like a bystander in this problem. In fact, it's been his failure to explain and sell his namesake legislation over the past three years that's brought us to this point."
"One reason the Republicans have gone to such extremes is that when you run away from a Republican program, which is what Obama put forward, Obamacare—which is from the Heritage Foundation, Mitt Romney's program, that is a moderate, Republican, business-friendly program—there's no place to go but go crazy," Jones said. "You have Ted Cruz (R-TX), who's now the Speaker of the House. How can you have President Obama negotiate with Ted Cruz over what's happening in the House of Representatives?"
"What would you have them do?" Cupp said. "Ted Cruz, Rand Paul, Mike Lee, Marco Rubio, all of these guys were all elected running against ObamaCare, promising constituents they would do everything they could to end it. What would you do, break that promise to your constituents? They want them to act like this."
"Who wants them to act like this?" Jones asked.
"Their constituents back home," Cupp said. "I see it all day on Twitter. 'Thank you, Ted Cruz for standing up for us.' 'Thank you for trying to put an end to this.'"
"The polls say even those who don't like ObamaCare say don't shut down the government," Jones replied. "Even those who don't like ObamaCare say it would be better for them to deal with this in the normal course of legislation."
Watch the full clip below, via CNN:
[Image via screengrab]
——
>> Follow Evan McMurry (@evanmcmurry) on Twitter
Have a tip we should know? tips@mediaite.com