S.E. Cupp Blasts Sally Kohn For Downplaying Institution Of Marriage: 'I'm One Gay Rights Advocate' 'Not With You'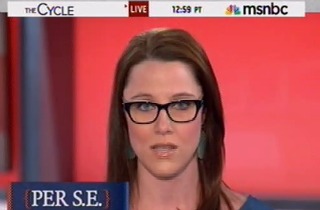 On Tuesday, MSNBC host S.E. Cupp castigated liberal columnist Sally Kohn after she wrote a piece saying that society should not only accept gay marriage, but move beyond the promotion of marriage as a relevant institution altogether. "The judgmental moral hierarchy of conservative marriage supremacy should be looked at by all of us with a queer eye," Kohn wrote. After summarizing and dissecting Kohn's argument, Cupp declared that Kohn's countercultural call to action was both excessive and flawed.

RELATED: GLAAD Slams Fox News Hosts For Attending Its Events Due To Network's 'Biased' Coverage
Cupp began the segment by admonishing the Gay and Lesbian Alliance Against Defamation (GLAAD) for criticizing Fox News Channel host Kimberly Guilfoyle and Jamie Colby for attending a GLAAD-sponsored event. GLAAD later clarified that the Fox News host was not the subject of their criticism, but the more vague "embarrassing, biased and misinformed" views of her employer as the organization saw them.
Cupp identified a strain of reflexive defensiveness among proponents of gay marriage towards conservatives or Republicans who also express their support for same-sex marriage rights. "Fortunately, not all the responses to conservative support of gay marriage have not been as absurdly parochial and impulsive as GLAAD's," Cupp said.
She turned to Kohn who recently asked in Salon.com if "GOP gay marriage supporters are hurting the cause."
Cupp identified a disturbing belief in Kohn's column. "The overtly conservative belief that marriage is a stabilizing social construct that should be encouraged is one she rejects outright," Cupp continued. "As a conservative who has long defended gay rights, this is where we may have a problem."
"I also deeply believe that defending gay marriage is defending marriage itself as an institution that creates economic stability, decreased reliance on the state, and provides a better environment for children than single parenthood," she added. "Kohn's assertion that, in defending gay marriage conservatives are yet again foisting their restrictive and regressive social norms on the rest of the country, begs the question: 'then, why do so many gay people – gay couples – want to get married in the first place?"
"If her project is to move the country not toward inclusive marriage rights, but beyond marriage altogether, I am one gay rights advocate who is willing to say 'I am not with you,'" Cupp said.
Watch the segment below via MSNBC:
> >Follow Noah Rothman (@NoahCRothman) on Twitter
Have a tip we should know? tips@mediaite.com