S.E. Cupp Calls Bluff Of 'Contemptible' Undecided Voters : 'You're Either Procrastinating, Lazy Or Lying'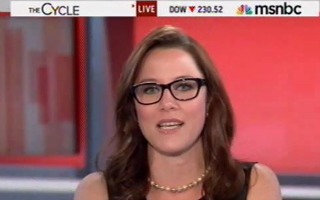 MSNBC host S.E. Cupp directed her ire at the phenomenon of undecided voters on Tuesday. Cupp said that, with the debates in the rear-view mirror, there is no reason for anyone to remain undecided about which candidate they support for president. She said that that it was time for undecided voters to make up their minds.

RELATED: Chris Matthews Goes Off On 'Bonehead' Undecided Voters: 'What's Your Problem?'
After playing a clip of Saturday Night Live's sendup of undecided voters, Cupp noted that this was not a badge of honor but a mark of shame for the uncommitted voter. "Your mere existence is so absurd that SNL cannot ignore you any longer," Cupp said.
"You are officially out of excuses," Cupp continued. She went on to outline the many reasons why it is unlikely that anybody who will cast a vote for either President Barack Obama or Mitt Romney has no opinion on either of candidate.
Cupp cited a study that showed women form their opinion about a potential suitor within 180 seconds, and require no further deliberation to know whether they will date a man or spurn his advances. Therefore, she says, there is no reason why undecided voters cannot become decided – and fast.
"I'm calling your bluff, undecideds. You – the most contemptible voting group out there. You're either procrastinating, lazy or lying," Cupp concluded. "So pick as side and make up your minds, and consider this your written invitation to the election."
Watch the clip below via MSNBC:
> >Follow Noah Rothman (@Noah_C_Rothman) on Twitter
Have a tip we should know? tips@mediaite.com