S.E. Cupp: Chris Christie 'Dead Wrong' To Call Out GOP'ers Who Opposed Sandy Aid Bill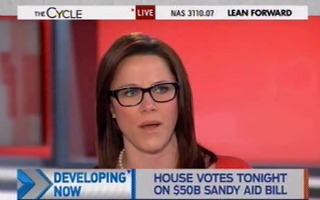 On Tuesday, MSNBC host S.E. Cupp called Northeastern Republican governors and Congressional Representatives who are actively bashing their fellow Republicans over not passing a Hurricane Sandy relief bill fast enough "dead wrong." She singled out New Jersey Gov. Chris Christie in particular, saying he should spare some of his indignation for Democrats who loaded the original relief bill up with enough unrelated spending to make it unpalatable to House Republicans in the first place.

RELATED: Chris Christie Tears Into Boehner For Delaying Sandy Aid: 'This Was The Speaker's Decision — His Alone'
MSNBC host Touré said the GOP's holding up of the Senate's original Hurricane Sandy relief bill was "one of the more disgusting things that House Republicans have done in recent memory."
"I agree with you that it's been politicized to a disgusting degree and the shaming that Republicans have endured over daring to vote no on this is demonstrable," Cupp said noting that the decision not to pass this bill may be looked on as an unforced error by Republicans.
However, she said that the Northeastern members of the GOP who have come out so strongly against House Republicans are not helping in the long run.
"I love Chris Christie, but I think on this he was dead wrong," added Cupp. "I think there's equal amounts of shame that is deserved by some Democrats who would look at an emergency and a tragedy and say, 'I'm going to exploit that and stuff it with things that I need for my district that aren't emergency spending, that have nothing to do with Sandy relief. I think that's disgusting."
Cupp concluded by conceding that not voting on the bill is a political mistake for Republicans, but that Democrats who helped load the original bill with unrelated spending also deserve some shaming.
Watch the clip below via MSNBC:
> >Follow Noah Rothman (@Noah_C_Rothman) on Twitter
Have a tip we should know? tips@mediaite.com