S.E. Cupp Claims Romney Would Have Won In 2008: He 'Doesn't Need A Makeover,' 'He Needs A Time Machine'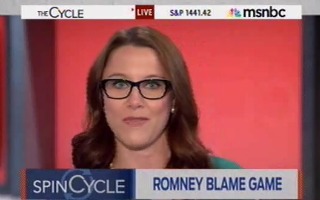 On Friday, MSNBC host S.E. Cupp took on the conventional wisdom which now suggests that Mitt Romney is headed for defeat in November either because he is a poor candidate or the media is behind his opponent. Cupp said that Romney is a good candidate and he is suited to the presidency but, due to the quirks of history, he would have been a far more viable candidate in 2008 than he is in 2012.

RELATED: S.E. Cupp To Conservatives: 'Calm Down' – If Romney Loses, It's Not The End Of The GOP
"Mitt is running in the wrong year against the wrong Barack Obama," said Cupp.
Just imagine if he had run in 2008 and won the nomination instead of John McCain. Next to the junior senator from Illinois, he actually looked very grown up, right? He had run businesses and the Olympics and had been a governor – back when being a governor was still a big deal for running for president. He could run on Romneycare instead of against it, which he's been dying to do – you can just tell. His response to the economic meltdown would have bee, 'I got this. I can handle this.' Instead of McCain's, which was to freak out and suspend his campaign. And then, of course, the us-versus-them, 99 percent, class war rhetoric of Occupy Wall Street hadn't begun yet. So, it was still acceptable to be a rich guy and not have to wear the scarlet 'A' on your chest.
"It just would have been the perfect time and the perfect Obama to run against," Cupp concluded. "I can't imagine a worse moment for a multi-millionaire investment banker, who authored a universal health care bill, to run against Barack Obama."
"My message is Mitt's a great candidate," said Cupp. "He doesn't need a makeover and he doesn't need a new message. He needs a time machine."
"Rick Santorum said the same thing," Touré said.
Watch the clip below via MSNBC:
> >Follow Noah Rothman (@Noah_C_Rothman) on Twitter
Have a tip we should know? tips@mediaite.com