S.E. Cupp Confronts Trump Spox: Campaign Trying to 'Otherize' Cuban-American Rivals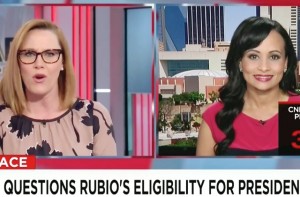 CNN's S.E. Cupp confronted Donald Trump spokeswoman Katrina Pierson this afternoon for the Trump camp's attempts to "otherize" his Cuban-American and African-American rivals.
Yesterday Trump said he is "not sure" that Marco Rubio is eligible to be president. Rubio was born in Miami. Jake Tapper brought up to Pierson today that he specifically asked Trump about Rubio's eligibility weeks ago and Trump said it's not a problem.
And as Tapper pointed out, the only thing that's changed since then are the polls.
Pierson said that Rubio's parents weren't citizens at the time, which makes a huge difference. Tapper said, "It actually doesn't."
That led into Cupp going off on the Trump campaign for its underhanded tactics:
"The Trump campaign has attempted to otherize other candidates when they were surging. They've done that with Ted Cruz, a Cuban-American. He did it with Ben Carson and his religion––an African-American––and now that Rubio is rising in the polls, Trump is trying to communicate that this Cuban-American might be someone to be afraid of to a very small group of voters who believe that all of the problems in the world and all of their personal problems are the result of people that don't look like them. It's really sad that that's been catching on anywhere."
Pierson shot back, "That is absolutely ridiculous. Trying to make this about race is absurd."
"I agree," Cupp said. "You should tell your boss that."
Watch the full segment above, via CNN.
[image via screengrab]
— —
Follow Josh Feldman on Twitter: @feldmaniac
Have a tip we should know? tips@mediaite.com
Josh Feldman - Senior Editor