S.E. Cupp: Conservatives Embracing Christie Because Media's 'Getting Ahead of the Facts'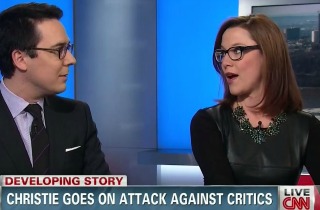 One of the more interesting results of the political media's aggressive pursuit of the various controversies engulfing New Jersey Gov. Chris Christie's administration has been the fact that conservatives, once leery of the Northeastern governor, are now embracing him. CNN host S.E. Cupp remarked on Monday that it was interesting that Christie, whose positions have not change in a year, is now receiving invitations to speak at the Conservative Political Action Conference (CPAC) when he was not invited in 2013.

Cupp began by joining her fellow panel guests in sharply criticizing the Christie administration's decision to lash out at both the press and his former associate, David Wildstein, even going so far as to reveal that he was not especially popular in high school.
"But the problem with these New York Times stories, and the Democrat pile-on, the Dawn Zimmers," Cupp said, "there is this urgency and giddiness to get ahead of the facts."
RELATED: NY Times Public Editor Slams Paper's Stealth Edits on Christie Bombshell Report
"All this is doing, getting ahead of the facts, is shoring up his sympathy with the very people who trusted him the least: far-right republicans," he continued. "Nothing has changed about Chris Christie's positions between last year and this year, yet suddenly CPAC has decided he no longer is too liberal for CPAC."
"You might be losing independents for him, but you're gaining them on the far-right," Cupp observed.
When one of her fellow panelists observed that this was a weak general election strategy, Cupp responded by noting that it was an effective strategy ahead of the 2016 Republican primaries.
Watch the clip below via CNN:
[Photo via screen grab ]
— —
> >Follow Noah Rothman (@NoahCRothman) on Twitter
Have a tip we should know? tips@mediaite.com