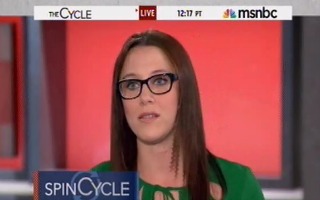 MSNBC host S.E. Cupp accused both Republicans and Democrats in Washington of making the prospect of tax rate increases into a "fetish." She said that tax hikes do not represent the cure-all that Democrats appear to regard them as, nor are they the poison pill that Republicans make them out to be.

"These tax hikes, which, by the way, will fund the government for eight days, have been completely fetishized by both sides," Cupp said.
"They are a fetish to Democrats who think – or, they're acting like – these tax hikes are an actual economic solution. They are not, in and of themselves," Cupp added. "And the GOP has fetishized these tax hikes to make them sound like the end of the world – they are not."
Cupp said that no deal will be reached in Washington to avoid going over the fiscal cliff in January unless Republicans publicly accept the need for rate increases on the nation's top earners and Democrats reciprocate with deep, meaningful spending cuts.
Cohost Krystal Ball said that she believed Democrats supported tax increases primarily out of a desire to seek "fairness." Cupp replied that she could understand the political argument for tax hikes, but that was not a substitute for a cogent economic argument.
"[Democrats] are acting like this is going to solve a lot of our problems, and it's not," Cupp continued. "And Republicans are acting like this is going to be the end of the world, and it's not."
Cupp said that tax and entitlement reform were necessary to address fiscal, rather than political, problems.
Watch the clip below via MSNBC:
> >Follow Noah Rothman (@Noah_C_Rothman) on Twitter
Have a tip we should know? tips@mediaite.com