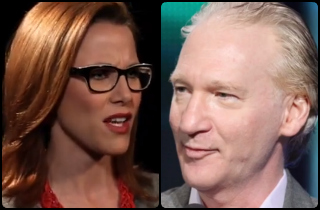 CNN's S.E. Cupp has never been shy about her atheism, even if it does make her stand out in the conservative media world. But in a new online video for Crossfire the pundit makes the claim that conservative atheists are actually "better" than liberal ones, and she uses Bill Maher as her prime example.
"I don't believe in God, but I'm not mad at him," Cupp says at the top of the video, immediately contradicting herself. She explains that she became an atheist because she's not a "joiner" and didn't want to be part of a "club or group." She says she believes that atheists are perpetuating the idea that they are "somehow disenfranchised or left out of the political process," but that has not been her experience as a conservative.
Cupp says she does not believe the "myth" that conservatism is "hostile" to atheism. "I'm a conservative atheist and I've felt very welcome by this party," she says of Republicans. "In fact, I'd go so far as to say conservatism is far more intellectually honest and respectful of atheism than liberalism has been."
While conservatives "tolerate" and "respect" both atheists and religious people, Cupp says liberals embrace a "militant hostility" towards religion. Which brings her to Bill Maher.
"Bill Maher thinks 95% of the world has a neurological disorder," she says. "I don't think you'd find that on the right. For that reason — I'll say it — I think our atheists are better than yours."
It's only a matter of time before Maher responds to those fighting words.
Watch video below, via CNN:
[Photo via screengrab]
— —
>> Follow Matt Wilstein (@TheMattWilstein) on Twitter
Have a tip we should know? tips@mediaite.com