S.E. Cupp In Heated CNN Segment: Donald Trump 'Will Never Be President'
S.E. Cupp on Trump: 'He Will Never Be President'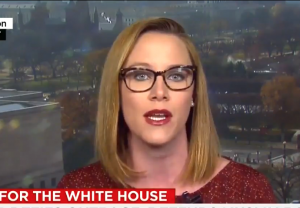 During a panel discussion of Donald Trump's call for banning all Muslim immigrants in the United States, conservative commentator S.E. Cupp told CNN anchor John Berman that the Republican presidential candidate will never become President of the United States.
"Most Republicans find what Donald Trump said to be repulsive," she said. "It's repulsive morally. It's repulsive if you cherish the Constitution. It's repulsive if you're a good conservative. It's repulsive if you like freedom of religion. It's repulsive on so many levels."
"Frankly, I don't know how Trump surrogates like [Lou Gargiulo] can sleep at night peddling this unconstitutional, un-conservative and un-American garbage for a guy who — let's face it — will never be president.
Gargiulo, a businessman and Trump campaign supporter in New Hampshire, tried to get a word in at this point, but Berman refused — especially since he'd already interrupted Ahmadiyya Muslim Community USA spokesperson Harris Zafar earlier in the segment.
Meanwhile, Cupp went on to claim that almost every card-carrying GOP member (sans Ted Cruz) had "summarily denounced" Trump's proposed ban. She also insisted that Trump wouldn't become president because he would never get the party's nomination.
Berman then asked if GOP chairman Reince Priebus's pledge idea was a "bad idea," and Cupp agreed. Trump signed the pledge, despite claiming that he would consider a third-party run, and Priebus has since maintained that the candidate would never abandon the GOP.
Check out the clip above, via CNN.
[Image via screengrab]
— —
>> Follow Andrew Husband (@AndrewHusband) on Twitter
Have a tip we should know? tips@mediaite.com