S.E. Cupp: Marco Rubio Talking Hip Hop A 'Transparent' Attempt To Appeal To Young Voters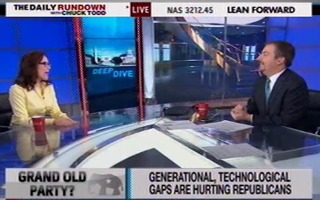 Appearing on MSNBC's Daily Rundown with Chuck Todd, MSNBC host S.E. Cupp discussed the Republican Party's ongoing effort to appeal to younger and more diverse voting demographics. She was asked if Sen. Marco Rubio's (R-FL) recent admission that he is a fan of hip hop is enough to attract the youth vote. She replied that it was not and added that Rubio's appeal to young voters in particular struck her as "transparent."

RELATED: S.E. Cupp Doubles Down In War With Limbaugh: 'There Will Be No Apology'
"Is it as simple, S.E., as Marco Rubio talking about hip hop," Todd asked Cupp regarding the GOP's outreach to young voters.
"No," Cupp replied.
"Is that too, sort of, ham-handed," Todd said.
"I think most people would agree that that looked a little transparent," Cupp added. "It's not just dropping these signifiers and these cool references into conversation."
Cupp went on to say that the key to the Republican Party's ability to appeal to new voting blocs is to discuss policy in ways that these groups identify with, not in attempting to appear knowledgeable about pop culture.
"There are good ways to talk about immigration and abortion, and there are bad ways to talk about those issues," Cupp continued. "We've preferred, for quite some time, to use bad ways. And then we knee-jerkingly defend our party leaders to the death on those messaging efforts. And we find way to defend them, and justify them, and explain them away, and we've lost a lot of credibility with young people."
Watch the clip below via MSNBC:
> >Follow Noah Rothman (@NoahCRothman) on Twitter
Have a tip we should know? tips@mediaite.com