S.E. Cupp: 'My Gal Pal Newt Gingrich' Has Gotten Too Much Credit For This So-Called 'Southern Strategy'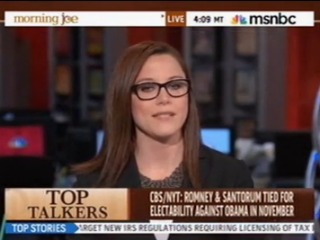 On Tuesday's Morning Joe, columnist S.E. Cupp took some time to weigh in on the GOP candidates' chances going forward in the South, particularly where Newt Gingrich — widely considered a "shoo-in" in the area, given he's a Georgia native — is concerned. It turns out that Gingrich's "Southern Strategy," she shared, is something of a misnomer.
The show's panel took a look at a new CBS News / New York Times poll which showed how the GOP candidates might stack up against President Obama in a general election.
"This sort of thing happens," said Cupp, taking a look at the numbers. "You sift out the weaker candidates and then the strongest survive and remain. I don't know. I think some of these guys' days are numbered." Whose, specifically? Why, her "gal pal" Newt Gingrich. He's in a place where he really has to show he can win something beyond his home state, she added.
RELATED: The Five Agrees That Newt Gingrich Is Wasting Time Going After ABC's GCB
"I've got to take issue with this idea of a Southern Strategy if you will," said Cupp. "I think that gives the Gingrich campaign a little too much credit. This is a strategy by default not design, right? It's not like he looked at the electoral map and said, 'Well, i would like to take this state, and this state.' These are the only states he can win and if he doesn't, I think that spells the end for his campaign."
The talk turned to Rick Santorum and Mitt Romney, particularly in terms of the voters they're able to attract. Fellow panelist and MSNBC host Alex Wagner musing over what segment of women voters each of the two candidates would be able to attract. Cupp noted that, despite Wagner's guess that Romney would fare better with single women, many younger, unattached women simply "swoon" over Santorum's stories about his wife and daughters.
Have a look, from MSNBC:
Have a tip we should know? tips@mediaite.com