S.E. Cupp: Obama 'Might Just Think The Press Is Really Stupid,' Because Benghazi Makes Them 'Look A Fool'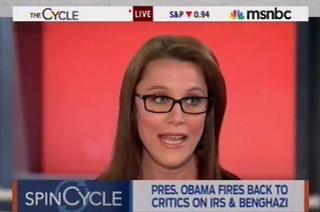 During Monday's The Cycle, MSNBC host S.E. Cupp pushed back against her fellow co-hosts who universally said that conservatives were pursuing a political witch-hunt by investigating President Barack Obama's administration's response to the 2012 attack on an American consulate in Benghazi. Cupp said that the political media was unlikely to back off because they do "not want to be made to look a fool." She added that the White House projects the impression that they "think that the press is really stupid" and the media is prepared to push back against that notion.

RELATED: Matthews' MSNBC Guests Agree: Benghazi Is 'Weak Ground' For GOP, Should Focus On IRS Scandal
"I think we've reached a really sad stage with regard to Benghazi," declared co-host Ari Melber. "There is an abuse of power in connection to Benghazi. The abuse of power is the complete exploitation and politicization of this strategy by some members of the Republican party in the House."
Melber said that this fact is clear because, as Obama said today, the White House was supposedly covering up that the Benghazi attack was a terrorist act even though they acknowledged that fact three days after the attack.
"It is disgusting," Melber added. "It has gone totally out of control, and it's also sad."
"Obviously, I disagree with all of you on the implications of Benghazi and scrubbing those talking points," Cupp interjected. She said that, with a wrongly implicated filmmaker still in prison after being accused of putting an inflammatory video on YouTube that resulted in the death of four Americans, "I think those implications are pretty serious."
She added that it is not surprising that Obama, heading into his second term, is getting push back form Congressional Republicans. What is interesting, she said, is how the press has reacted to the scandal.
"On Friday, with that presser with Jay Carney, I saw them united in their contempt for Jay Carney's talking points in a way I have not seen this press pool be before," Cupp declared. "The press does not want to be made to look a fool."
She said that the political media extended Obama a lot of good will. "And now it feels like they might just think that the press is really stupid and that they can get away with a lot," Cupp noted.
She said that the result will be a much more thorough and scrutinizing press corps with regards the White House's talking points in the future "because their credibility is at stake now, and they don't want to be continued to look like fools just sitting back and eating up this stuff without asking the right questions."
Watch the clip below via MSNBC:
> >Follow Noah Rothman (@NoahCRothman) on Twitter
Have a tip we should know? tips@mediaite.com