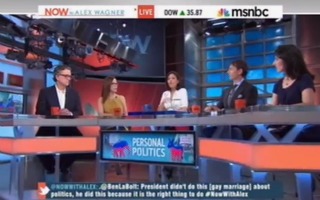 On Thursday's Now with Alex Wagner on MSNBC, New York Daily News columnist S.E. Cupp weighed in on President Barack Obama's revelatory interview with ABC News in which he confirmed that he did support same-sex marriage rights. Cupp questioned whether the moment was politically driven, more by the need for donations from the gay rights community than by belief in the cause of gay marriage. Also, she said that gay and lesbian Americans should rethink just how much Obama did for them by opening up in this way. Cupp said, "If I'm in the gay rights community, am I really happy that this is a president who just said, 'well, I've finally decided to like you guys. I've decided I accept you people.'"

RELATED: Class Warfare: S.E. Cupp Battles Bill Maher And Panel Over 'Demonizing Prosperity'
Wagner asked Cupp to clarify her feelings that swing state voters are unlikely to be moved to vote for either Barack Obama or Mitt Romney on the issue of gay marriage alone.
No one believes that politics did not play a role in the unveiling of this announcement. Of course, it did. But the strategy I don't think is for votes. Because, as you say, people who were not going to vote for Obama are still not going to vote for Obama. And people who were, you know, now have even more reason to. I think this was more about dollars than it was about votes. I think Obama wants some Hollywood money. He wants money from the gay and lesbian community that was very clear in saying, 'we're withholding some of our donations until and unless he makes a statement on this. And I think by even White House admission, in saying that they were going to do this at the convention – that's a political calculation.
Cupp continued to say that, "as someone who has always supported gay rights," she is happy to have Obama "on our side now."
This statement generated laughs from her fellow panelists, and a hasty correction from Wagner who interjected that gay rights may be Cupp's policy preference, but it is not that of the Republican party as a whole.
Wagner conceded that there was probably a political calculation made around gay and lesbian donors, but "let's not underestimate the courage it takes to do this in this point in time."
Wagner continued, "on the day after black voters in North Carolina, a swing stat that the president absolutely – not wants to but needs to win – that overwhelmingly support an amendment to ban civil unions…"
"Wouldn't it be more courageous the day before, as you asked [Obama for America Communications Director] Ben [LaBolt]," asked Cupp.
"I'm not talking about the timing," said Wagner. "He did it." Wagner went on to say that she does not believe Obama is risking Black voters. While they may not vote for Romney, in her estimation, "they could stay home."
True Believers author Kurt Andersen said that Obama sounded very "state's rights-y" in his interview on Good Morning America on the issue of gay marriage.
Wagner said that gay rights as a civil rights issue will fire up unenthusiastic young voters who have thus far been underwhelmed by the prospect of a second term for Obama.
"Seizing on this cultural moment will help inject the campaign with some new life and energy," conceded Cupp.
Former Rick Santorum presidential campaign advisor Hogan Gidley weighed in, saying that the issue of gay marriage as it would relate to a possible Constitutional amendment defining marriage as existing between a man and a woman would be a more contentious issue this election cycle.
Cupp went further, saying "If I'm in the gay rights community, am I really happy that this is a president who just said, 'well, I've finally decided to like you guys. I've decided to finally accept you people." She concluded saying that the moment felt a little "self-aggrandizing."
Watch the segment below via MSNBC:
Have a tip we should know? tips@mediaite.com