S.E. Cupp: Obama's Speech Did More to Attack Republicans than Islamic Terrorists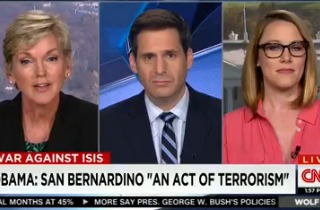 During a discussion on Obama's address last night on San Bernardino and Islamic extremism, CNN commentator S.E. Cupp joined the chorus of those who were unimpressed by the president's seeming lack of conviction to deal with terrorist threats.
Cupp opened up her side of the argument by contrasting the goal of Obama's speech to reassure the public about his anti-ISIS strategy with how GOP contenders have been talking up tough measures to deal with threats. Cupp said it seemed like the president was more interested in pointing fingers at people like Donald Trump and warning against Muslim discrimination.
"It is important to talk about not discriminating against Muslim Americans and rhetoric against them, but it wasn't the point of last night's speech," Cupp said. "That comes out of Democrats' mouths on a daily basis. Last night should have not talked about gun control or Muslim databases. It should have talked about 'Here's what we're doing on ISIS and here's why it's going to work.'"
Former Michigan governor Jennifer Granholm responded that Obama's thoughts about restricting suspected terrorists access to guns was a relevant point, and that Republican solutions are either extreme or identical to Obama's. To this, Cupp noted that ideas like Trump's are "reaffirmed on a daily basis" whenever he appears tough where the Obama is not.
"Whatever the president is doing or saying, it is not working and it's opening up areas for people like Donald Trump and Ted Cruz to fill that void," said Cupp.
Watch above, via CNN.
[image via screengrab]
— —
>> Follow Ken Meyer (@KenMeyer91) on Twitter
Have a tip we should know? tips@mediaite.com