S.E. Cupp On Gosnell: Gun Ownership Doesn't Always Result In Death, But Legal Late-Term Abortion Often Does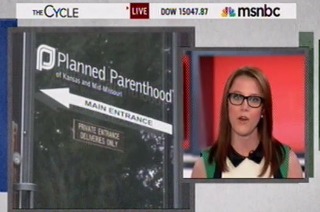 S.E. Cupp weighed into the ongoing trial of Kermit Gosnell on Tuesday during the commentary portion of MSNBC's The Cycle. Cupp admonished Planned Parenthood for opposing new laws which would prevent future late-term abortion abuses like Gosnell's, noting that their opposition to new laws is essentially the same argument made by opponents of gun control: no law will deter someone bent on criminality. Cupp added that pro-life advocates have a stronger argument to make – legal gun ownership, she says, does not always result in accidental or intentional death, but legal late-term abortion does.

RELATED: Gosnell Attorney Blasts Fox News For 'Irresponsible' Documentary, Says It Was Designed To Sway Jury
"Much has already been written and said about the lack of media attention the Kermit Gosnell abortion case has received," Cupp began. "But, while the outrage was slow to come, it eventually did. And now even staunch pro-choice advocates are rightly coming out to denounce Gosnell and his practices."
"The outrage is appropriate and welcome," she continued. "But while you'd think that the stunning lack of oversight in this case – multiple government agencies failed to put an end to his illegal practices over the years – would prompt calls for new legislation to make it harder for criminals like Gosnell to do what he did for as long as he did, Planned Parenthood has oddly said no."
"It insists that no new regulations can stop a physician who has decided to disregard the law," Cupp recounted. "Now, that doesn't stop gun control advocates from pushing for new laws every time a monster shoots up a school or a movie theater."
"But when it comes to abortion, there's a difference. For one, lawful gun use doesn't accidently or intentionally also result in a mass shooting," Cupp said. "Legal abortion can result in the death of the mother, the death of babies born alive, and the death of late-term fetuses."
Cupp detailed the number of abortion-related deaths and established that fatalities relating from abortion procedures are not rare. 'Why oppose bills that require appropriate medical care for babies that survive abortions?" Cupp asked.
Watch the clip below via MSNBC:
> >Follow Noah Rothman (@NoahCRothman) on Twitter
Have a tip we should know? tips@mediaite.com