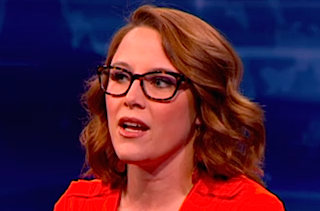 With Crossfire 2.0 gone from the CNN airwaves, the panel discussions on The Nightly Show with Larry Wilmore might just be the next best thing. So it somehow made sense to see CNN's S.E. Cupp speaking her mind on the vaccination debate last night during a special show in which panelists responded to viewer tweets.
In response to a viewer's concern over a recent Nightly Show episode that gave a platform to an anti-vaxxer voice, Cupp decided to tackle the question of whether government should be "mandating" that children get vaccinated for diseases like the measles.
"I don't think it's appropriate for the government to come in and mandate it, and I don't think you're going to hear a lot of politicians calling for that" Cupp said, before offering up her own solution to the problem.
"The private sector should decide to ostracize these people and keep them out," she suggested. "I'm sorry, but you go to Whole Foods, you go to Starbucks, 'No shirt, no shoes, no vaccines, no service!'"
The comment, which got a quizzical look from Cupp's CNN colleague Michaela Pereira, may have been delivered in a jokey way, but it did seem to reflect her view that the private sector and not government can solve this problem.
Of course, there already are government mandates for several different vaccines in nearly every state for public school children, though most allow for exemptions based on either religious or philosophical objections. But, as far as private businesses go, is Cupp actually suggesting that Whole Foods and Starbucks check immunization records before customers can enter the door?
Cupp's idea recalls that of Sen. Thom Tillis (R-NC), who said he believed the free market should make the ubiquitous "Employees Must Wash Hands Before Returning to Work" signs in restaurant bathrooms obsolete. His suggestion, in an attempt to cut down on regulations, was the force restaurants who opt out of that policy to post signs that read: "We don't require our employees to wash their hands after leaving the restroom."
Watch video below, via Comedy Central:
[Photo via screengrab]
— —
>> Follow Matt Wilstein (@TheMattWilstein) on Twitter
Have a tip we should know? tips@mediaite.com