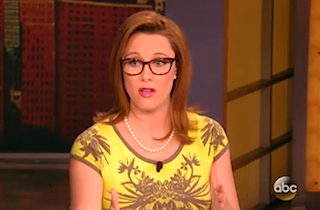 S.E. Cupp's name has been thrown around a lot over the last couple of weeks as a possible conservative replacement for Sherri Shepherd and Jenny McCarthy, who both announced they will be leaving The View this year. Today, the current Crossfire host got a chance to show off what she can bring to the table, guest-hosting alongside actor Jason Biggs.
Cupp made her presence known from the top of the show, during which she joked about her pregnancy in a way she rarely has the opportunity to on CNN. But, soon the group was on to more pressing "Hot Topics," with Whoopi Goldberg introducing a discussion about the war between Israel and Hamas by playing a clip of Secretary of State John Kerry's "hot mic" moment on Fox News Sunday.
"I think it just goes to show how complicated the conflict is," Cupp said, referring to Kerry's sarcastic comments about Israel's "pinpoint operation" in Gaza.
Goldberg remarked that when President George W. Bush came out and said the Palestinians needs a home just as much as the Israelis, conservatives "ate him like a piece of toast." She added, "The truth of the matter is, you have a land and you have a bunch of people and you're going to have to work it out. Killing each other is not the answer."
Cupp echoed that sentiment by reminding viewers that "the Palestinians are people. Hamas, they're terrorists. And that's what people have to remember." She proceeded to call out her own CNN colleague Diana Magnay, who referred to Israelis cheering missile strikes on Gaza as "scum" on Twitter and was subsequently removed from the region. "You're a reporter," Cupp said of Magnay and others. "And your job, no matter how passionate you are about this issue — everyone has strong feelings — your job is to be objective."
Watch video below, via ABC:
[Photo via screengrab]
— —
>> Follow Matt Wilstein (@TheMattWilstein) on Twitter
Have a tip we should know? tips@mediaite.com