S.E. Cupp Reveals Five Simple Rules For The GOP In Order To Start Winning Again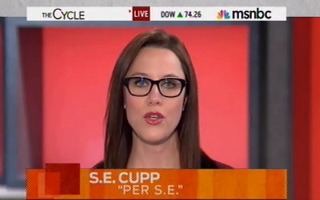 On Tuesday, MSNBC host S.E. Cupp noted that prominent Republicans are taking the opportunity of their losses in 2012 to review the party's strategic failures and determine better ways to reach voters and win elections. Cupp decided that she could advance that process by offering five new rules for the Republican Party to follow which, she said, would increase the augment the party's electoral prospects.

RELATED: GOP Pollster In Memo About Attracting Hispanic Voters: 'We Have To Admit It Is Us, Not Them'
Cupp's new rules are as follows:
1) Democrats are not the Visigoths
"I didn't become a conservative because someone convinced me liberals were terrible people," Cupp explained. "Conservatism has an uplifting message that we need to promote at every opportunity. And smile more. Voters will be far less terrified of us if we don't look like we want to eat their children."
2) Don't endorse stupid
"The Todd Akins of the party won't be coddled, explained or funded," Cupp insisted. "Strong opinions on abortion, gay marriage and other social issues are welcome, but junk science is not."
3) Get out of the Beltway
"Step outside once in a while. Leave D.C. Invite younger thought leaders to the table and consider unorthodox ideas," Cupp advised. "Unless they're Newt Gingrich's."
4) Do not malign aggrieved parties
"Minorities, women, gays, immigrants and anyone else who didn't vote for us this year aren't the enemy – they're opportunities," Cupp warned. "Calling them ignorant and lazy probably won't endear them to us."
5) Unicorns aren't real, but bipartisanism is
"Treating agreement like it's a mythical creature is an opportunity squandered," Cupp concluded.
"This is not to say that Democrats are innocent," said Cupp lastly. "They fear mongered, they race-baited and, yes, they lied at times. And this isn't' to say that there aren't valuable voices inside the GOP – there are. But the party apparatus that has overseen the last two presidential elections clearly doesn't get it anymore."
Watch the clip below via MSNBC:
> >Follow Noah Rothman (@Noah_C_Rothman) on Twitter
Have a tip we should know? tips@mediaite.com