S.E. Cupp, Steve Kornacki Battle Touré For Defending Drone Strikes: 'That Was The Argument Under Bush'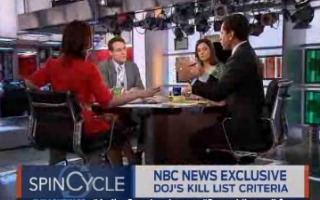 MSNBC's The Cycle erupted into a heated verbal battle over the ethicality of drone warfare on Tuesday. Co-hosts S.E. Cupp and Steve Kornacki expressed serious reservations over a memo leaked to NBC News by the Justice Department detailing the legal framework that allows for the targeting and killing of an American citizen abroad by an unmanned drone. Touré, however, found his fellow hosts' objections to be misguided, and repeatedly said he was "comfortable" with the White House's guidelines governing drone warfare.

RELATED: White House Responds To Drones Memo: Strikes Are 'Legal,' 'Ethical' And 'Wise'
"It's hard to say, 'let's not do things because we might radicalize other people,'" Touré said of his co-host's objections to drone strikes.
"But that was the argument under Bush," Cupp interjected.
"But when we say, 'this person is leading Al Qaeda to do things' – as soon as you join Al Qaeda, you become an imminent threat," Touré added as his fellow hosts exploded.
Kornacki countered by saying that he was uncomfortable with the language in the DoJ memo which makes it clear that a drone strike can be authorized even if the subject of the strike does not pose an immediate threat to U.S. interests or personnel.
"I'm comfortable with that," Touré said. "As soon as you join Al Qaeda, you are posing an imminent threat to the United States."
"We're in a post-geographical war with people who don't wear uniforms and don't play by the traditional rules of war," he continued. "If we don't attack them in the best way that we can…"
"Where are the limits?" Kornacki asked.
The panel erupted as the hosts wondered whether there is a bad precedent that has been set and other nations may deploy drones against U.S. servicemen or civilians in the future.
"Al Qaeda attacked this nation. We are attacking Al Qaeda back," Touré explained. "There is no equivalent to Yemen attacking us."
Watch this clip below via MSNBC:
> >Follow Noah Rothman (@NoahCRothman) on Twitter
Have a tip we should know? tips@mediaite.com