S.E. Cupp Struggles To Ask Full Question About Voter I.D. Laws Over Shouting MSNBC Co-Hosts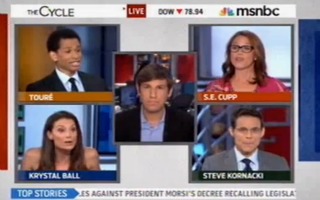 A debate over voter identification laws and whether or not they have the potential to disenfranchise minority voters descended into a shouting match on MSNBC's The Cycle as S.E. Cupp struggled to ask a full question of her fellow co-hosts.

RELATED: MSNBC's Touré Mocks Young Republican Live On The Cycle
Ari Berman, reporter for The Nation, appeared on MSNBC on Wednesday to discuss his report on the potential disenfranchisement that would result from voter identification laws in Texas.
"I have a question for my tablemates. Go with me for this," Cupp began. "Should non-citizens of this country be able to vote?"
Touré quickly answered "no" but immediately tagged his response with the qualification that "voter fraud is a red herring."
"But let me finish my premise," said Cupp.
Touré replied that he would not and repeated that voter fraud was, in his estimation, a red herring. "The disenfranchisement of millions of black and brown people is the issue," said Touré.
"Voter fraud exists," replied Cupp. "We can argue over how much it exists, but it absolutely exists."
"No, it does not exist," Touré replied.
"No examples of voter fraud around the country, Touré? It's never happened," replied an increasingly frustrated Cupp.
Berman jumped in and said that the Bush administration prosecuted only 86 cases of voter fraud after an investigation into the elections that took place between 2000 to 2006.
"That's 86 too many, Ari," said Cupp. She again attempted to circle back to her original premise. "If we agree that non-citizens should not be allowed to vote — if we agree, then how do we enforce that?"
Berman replied that there was no evidence that there was a problem to solve.
"There's no solution because you don't want a solution to this problem," said Cupp in exasperation. "I've got nothing else."
Watch this segment below via MSNBC:
> >Follow Noah Rothman (@Noah_C_Rothman) on Twitter
Have a tip we should know? tips@mediaite.com