S.E. Cupp Takes On The Daily Show Co-Creator For Saying Palin's Praying 'Does Scare People'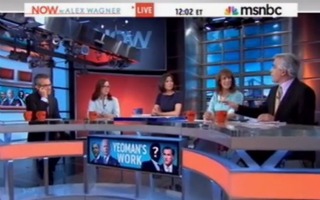 New York Daily News Columnist S.E. Cupp and The Daily Show co-creator Lizz Winstead debated how much former Alaska Gov. Sarah Palin's religiosity scared voters in 2008 in an MSNBC panel discussion on a Republican PAC's plan to attack President Obama as a "metro-sexual black Abe Lincoln." Winstead asserted that Palin's praying at a Pentecostal church in 2008 "does scare people." Cupp fired back that praying is something "people do every Sunday."

RELATED: NYT Digs Up Super PAC Proposal Calling Obama A 'Metrosexual Black Abe Lincoln'
Alex Wagner's MSNBC panel tackled the political impact of the New York Times' releasing a proposal for a pro-Republican Super PAC planning to run ads linking President Obama to Rev. Jeremiah Wright and to call Obama a "metro-sexual black Abe Lincoln." Romney came out in an interview on Thursday and strongly criticized the PAC's planed ad.
"I don't see what's wrong with a black metro-sexual Abe Lincoln," said Mother Jones columnist David Corn. "That sounds like a pretty winning combination to me."
Corn said that attacks like these will increase over the next five months as Republicans "prey" on angry billionaires who are looking to vent their frustrations with President Obama via PAC ads.
Wagner said that the Abe Lincoln comparison represents the "best part" of what is this PAC's strategy of "fear-mongering," "race-baiting" and attempting to portray Obama as a "Mau Mau revolutionary."
Cupp agreed with Wagner's assessment. "This is a bad idea on many levels," said Cupp. "I'm hoping that this is not a Republican idea, but the idea of a couple of guys standing in a room conspiring to do something crazy."
When Winstead criticized the strategy for assuming that American's would respond to what is essentially "old news," Cupp chimed in and said that she would like to "play a little devil's advocate."
"This goes on on the left as well," Said Cupp. "The whole idea to paint Sarah Palin as a really scary Christian – speaking in tongues and praying a way the gay and banning library books – this was an effort to also say, 'we think regular America is going to be scared of her the way this group is hoping America is scared of Obama."
Winstead countered, "I would say there's videotape of Sarah Palin at a church with a person praying over her…"
"So," Cupp asked.
"What I'm saying is, that does scare people," said Winstead.
"Praying scares people," asked an incredulous Cupp.
Praying—there's a difference," said Winstead.
"People do that every Sunday," said Cupp.
"Right," Winstead replied.
Watch the segment below via MSNBC:
Have a tip we should know? tips@mediaite.com