S.E. Cupp Takes Swipe At Romney Campaign On The Cycle: Health Care Messaging Was 'A Mess'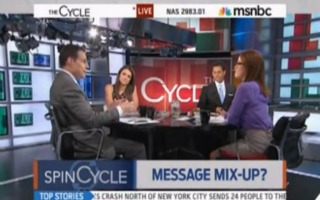 On Thursday, the panelists on MSNBC's The Cycle took on Mitt Romney, who is under attack by conservatives that are starting to see the Republican candidate's campaign as lacking competence. Co-host S.E. Cupp went after the campaign's messaging on health care reform and the individual mandate tax which she called "a mess." She also suggested that she hears that Romney's campaign is happy with the general state of the race and is unaware that they have committed any serious errors.

RELATED: Conservatives Sounding Alarm Bells: Romney Campaign's Missteps Leave Supporters Anxious
Co-host Steve Kornacki asked his fellow panelists if they too thought that the vacillation by Romney and his campaign over whether they thought individual mandate within the Affordable Care Act was a tax or a penalty was a "perfect preview of how a Romney administration would look."
Kornacki went on to say that the conservative base was frustrated that Romney did not immediately rally around the idea that the mandate was a tax, but they exerted enough public pressure on the Romney team to force them amend their position.
"Is this what we're going to see – you know, a guy who is afraid of his base and if they push him and pull him, he's going to go their way eventually," asked Kornacki.
"I think you could make the argument that Romney is impressionable, but not in this case," replied Cupp. She went on to say that the Romney campaign was on message when campaign advisor Eric Fehrnstrom did not commit a gaffe when he said the Romney campaign believes that the mandate is a penalty. However, Cupp said that the Romney campaign's messaging "came out as a mess."
"There was a clear way to do this and remain consistent, but this was not a mistake," said Cupp. She said that the Romney campaign did not change their message between Monday and Thursday, they clarified it but the nuance was lost in what appeared to the public to be vacillation.
Touré cited a scathing Wall Street Journal editorial from Thursday that slammed the Romney campaign's messaging on the mandate tax as an "unforced error." He went on to disagree with Cupp, saying "you don't plan to make an unforced error."
He said that this incident has changed the national conversation from one about the nature of the individual mandate as a tax or penalty to Romney as a person and his "inability to express his character and show a center."
"Romney is not sure who he is as a man," said Touré. "He's spineless."
"You're talking about his conviction, Touré. That's different from his character," Cupp responded. "His character is unimpeachable."
Co-host Krystal Ball responded that the public will not really care about the debate over a tax or penalty. What they will be concerned about is Romney appearing to be unclear about his principles and reaching for political expedience.
Cupp agreed in part, but said that the expedient thing would have been to agree with the Supreme Court's majority decision on the health care law and campaign against it as a new tax.
Kornacki asked Cupp if she agreed with conservatives like the WSJ editorial board and The Weekly Standard editor Bill Kristol who have called into question the competency of the Romney campaign.
"It is the question," replied Cupp. She said she would ask Romney if he would admit to some campaign missteps, but she says that she has heard from campaign insiders that the Republican presidential candidate is thus far happy with how the campaign is unfolding.
Watch the segment below via MSNBC:
> >Follow Noah Rothman (@Noah_C_Rothman) on Twitter
Have a tip we should know? tips@mediaite.com