S.E. Cupp Tells GOP To Get Behind Gay Marriage: 'Conservatism And Gay Rights Should Be… Natural Allies'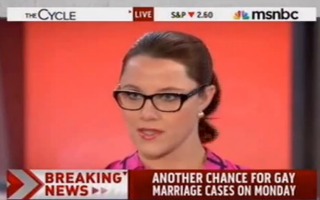 MSNBC co-host S.E. Cupp warned the Republican party on Friday that they need to come to term politically with the concept of gay marriage. She said that, while personal or religious objections to same-sex marriage distinct from political objections, the GOP needs to adopt more libertarian positions on social issues like gay marriage in order to stop alienating young and single female voters.

RELATED: How The GOP Becomes The Party Of Gay Marriage
Krystal Ball asked if Cupp agreed with a recent editorial by Washington Post columnist Jennifer Rubin who argued that the GOP as a party needs to move past its opposition to same-sex marriage rights. Cupp said that she did agree.
"There are parts of the Republican party in which gay marriage has already been decided," Cupp said. "For Log Cabin Republicans like myself, the GOProud crowd, there are people who have already reconciled — within the party — gay marriage."
Ball said that what Cupp was advocating was really a more libertarian stance on the issue of gay marriage, which Cupp also agreed with.
"Conservatism and gay rights should be, in many people's minds, natural allies – keeping the government out of private lives," Cupp added.
However, she went on to say that the people in the public sphere should not mock or defame those on the left or the right with religious objections to the concept of same-sex marriage.
"They can have those points of view," Cupp said. "I think, as a party, the GOP needs to get a little bit more tolerant about those issues. As a big tent party. Not personally. You can personally disagree with gay marriage if you want."
Watch the clip below via MSNBC:
> >Follow Noah Rothman (@Noah_C_Rothman) on Twitter
Have a tip we should know? [email protected]