S.E. Cupp To Conservatives: 'Calm Down' – If Romney Loses, It's Not The End Of The GOP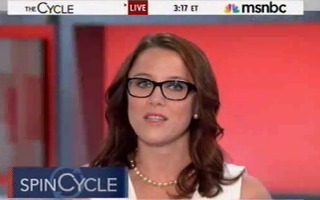 With Mitt Romney's campaign under fire in the press on Monday for alleged infighting and with polls consistently showing the Republican presidential challenger trailing President Barack Obama, hand-wringing about the state of the 2012 race among conservatives has grown to a deafening pitch. During MSNBC's The Cycle on Monday, S.E. Cupp took the opportunity to tell conservatives to take a breath. Even if Romney loses, Cupp said, the Republican party will survive.

Cupp referenced a widely reported story in Politico which outlines the infighting, second guessing and habitual improvisation rampant in the Republican presidential candidate's campaign. "First, kudos to Politico," she said, praising the detailed look into Romney's campaign operation. "This campaign has been notoriously hard to access if you are a journalist not named Fox News."
"I have a message for my conservative colleagues who seem to be engaging in this circular firing squad: Calm down. Let's chill out a little bit," Cupp continued. "This is not the end of the party as we know it. We will not be shutting down the party if Romney does not win."
She went on to say that the bad weeks on the trail that Romney has had are not abnormal for any national campaign. Secondly, she said that they do irreparable damage to Romney's image in the same way that the president's failures in the Oval Office have tarnished his reputation.
Steve Kornacki lamented that, if Romney loses in November, the GOP will not take the opportunity for introspection. He said that the Republicans took the loss to Clinton in 1996 to look inward at what the party's issues were, but this year they seem prepared to put the blame solely on Romney and give the president no credit for the victory.
Watch the clip via MSNBC:
> >Follow Noah Rothman (@Noah_C_Rothman) on Twitter
Have a tip we should know? tips@mediaite.com