S.E. Cupp To Matthews Panel: Pop Culture Visibility Has Helped Make Mormonism Mainstream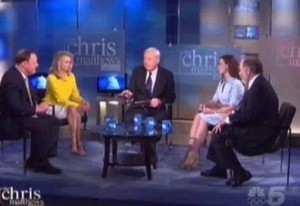 On his show today, Chris Matthews addressed the
"comfort" issue in choosing political candidates for office, specifically Mitt Romney being a Mormon and how voters have reacted to that information. Matthews noted that Romney's faith has been a bit of a sore spot, given polls showing a sizable (though not a significant) number of people would never vote for a Mormon.
RELATED: Melissa Harris-Perry Explores Misconceptions About Mormon Religion With Mormon Panelists
TIME's Joe Klein admitted some doubt about the aforementioned polls, saying that voters' minds are ultimately made up on election day and Romney's religion may not end up being that great a factor. However, Matthews did point out there is some very real anti-Mormon prejudice in this country, the kind people could never get away with publicly if the issue was race or gender.
To be blunt, Matthews said, a lot of Evangelicals just see Mormons as "weird." POLITICO's John Harris suggested that Romney is not so much weird as "square" and someone "out of a different generation," and Romney's religion could play a factor in the other aspects of his character. Katty Kay suspected that the Romney camp has been keeping their candidate's religion low-profile so it doesn't become a big thing during the campaign.
Klein went out of his way to praise Mormons as a whole as "kind and decent," which Matthews agreed with, but he still noted that since Romney would be the first Mormon president, people never quite know how to react to "the first." S.E. Cupp disputed the equivalency of race and religion, saying that by the very nature of religious belief, there is "necessary intolerance" that comes with the territory. She also brought up the recent Mormon uptick in pop culture, from the HBO show Big Love to the Broadway musical The Book of Mormon. Since more people are aware of it, Cupp said, it no longer feels that distant from the rest of the country.
Watch the video below, courtesy of NBC:
—–
Follow Josh Feldman on Twitter: @feldmaniac
Have a tip we should know? tips@mediaite.com
Josh Feldman - Senior Editor