S.E. Cupp Unloads On Eric Holder's Desire To Shame Gun Owners: 'It Makes My Blood Boil'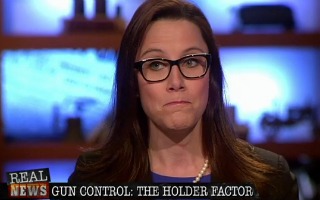 On Thursday's Real News on Blaze TV, the panel unloaded on Attorney General Eric Holder's statement that gun owners should be publicly shamed into getting rid of their firearms. Second Amendment rights advocate S.E. Cupp became visibly frustrated by Holder's statement, exclaiming that his view of gun owners made her "blood boil."

RELATED: MSNBC Panel Explodes As 'Gun Owner' S.E. Cupp Battles Gun Control Advocate
Holder is quoted in a 1995 video saying that gun owners should be made to "cower" in shame. In that way, he says, gun ownership will be reduced because fewer people will want to face the social stigma associated with gun ownership.
"It's worth understanding what the other side wants here," said The Blaze's National Security editor Buck Sexton. "At some point, they want to change the way people think about guns. That may take time. That may be a process. But the end of that process is not having people have guns."
Conservative columnist Will Cain slammed the attorney general, saying that his views now align with publications like Gawker and The Journal News, which recently published the names of registered gun owners – the latter referring to those legal gun owners as "a**holes."
He did, however, say that anyone with the aims that Sexton outlined will face nearly insurmountable obstacles in the limitations to federal power enshrined in the Constitution.
"I cannot tell you how offended I am to hear Eric Holder, or anyone, talking about shaming gun owners," Cupp said. "I feel it inside. It makes my blood boil, because it so fundamentally misunderstands the Second Amendment."
"The idea that he would paint me with the same brush as some criminal that he's talking about is so offensive, but that is so common because most people who talk about gun control don't distinguish," Cupp added.
CATO institute polling director Emily Ekins said that the general public does not here the arguments presented by Second Amendment rights advocates regarding personal protection, but they do hear that gun rights advocates oppose background checks or limitations to types of guns available.
"They are making law abiding gun owners defend their rights, which are already on the books," Cupp agreed.
Watch the clip below via The Blaze TV:
> >Follow Noah Rothman (@Noah_C_Rothman) on Twitter
Have a tip we should know? tips@mediaite.com